Alaska is Ground Zero for Global Warming Studies
By Elizabeth Weise – USA Today
[fusion_dropcap]T[/fusion_dropcap]o the untrained eye, Bonanza Creek forest is breathtaking, a vibrant place alive with butterflies and birds, with evidence of moose and bear at every turn. But look through forest ecologist Glenn Juday's eyes, and you see a dying landscape.
Since the 1970s, climate change has doubled the growing season in some places and raised state temperatures 6 degrees in the winter and 3.5 on average annually since 1950, says Juday, a professor at the University of Alaska-Fairbanks. Drought is stressing and killing spruce, aspen and birch trees.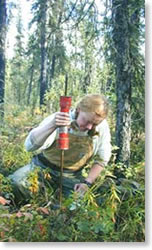 Alaska has emerged as the poster state for global warming, the climate effect attributed to higher concentrations of "greenhouse" gases – mostly carbon dioxide created by burning fossil fuels – that capture the sun's heat in the atmosphere.
Global warming is a hot topic, especially now. Hurricane season begins Thursday, and climate researchers warn that rising ocean temperatures may bring more intense storms.
Former vice president Al Gore is back in the news with the release of his acclaimed documentary on warming, An Inconvenient Truth. And President Bush – who has been criticized by environmental groups that say he has been slow to acknowledge the dangers posed by warming – said last week that "people in our country are rightly concerned about greenhouse gases and the environment."
Alaska is important in measuring the effect of global warming on the USA because what happens here soon will be felt in the Lower 48 states, say experts such as Robert Corell, a senior fellow at the American Meteorological Society.
The spruce budworm, aspen leaf miner and the spruce bark beetle, pests once kept in check by winter cold, are flourishing here. Statewide, insect outbreaks have killed more than 4 million acres of forest in a decade and a half, says John Morton, a biologist at the Kenai National Wildlife Refuge in Soldotna.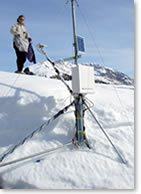 Fires, long an integral part of the forest ecology here, are burning millions of acres as summers get longer and hotter, says Scott Rupp, a University of Alaska-Fairbanks professor of forestry. And with each wave of fires, trees have a harder time coming back in the increasingly warm and dry landscape.
This great northern forest may end up a grassland. "Soon, people will be coming to the great plains of Alaska," Juday says.
Alaska is ahead of the climate-change curve because polar regions warm the fastest. They had long been kept frigid by vast regions of snow and ice that reflect 70% of the sun's energy back out to space.
But higher temperatures are shrinking that snow and ice cover. In the Arctic, summer sea ice has shrunk 15% to 20% in the past 30 years, according to 2005's Arctic Climate Impact Assessment report.
And as the snow and ice recede, the sun's rays are hitting more dark ground and water, which absorb most of the heat, reflecting just 20% of the energy away, says Matthew Sturm, a research scientist with the U.S. Army Corps of Engineers' Cold Regions Research and Engineering Laboratory in Fairbanks.
Lakes and ponds are disappearing as the permafrost, permanently frozen ground that underlies much of Alaska north of Fairbanks, melts.
"It's like pulling the plug in a bathtub," says Peter Schweitzer, an anthropologist who works with the Arctic peoples in Alaska and Russia.
In some areas, as much as 40% of surface water has disappeared, taking with it vital habitat for ducks and other waterfowl, says Juday.
The permafrost that underlies much of the central and north of the state is a relic of the last Ice Age. Some of the frozen ground under Fairbanks is 100,000 years old, says Vladimir Romanovsky, a permafrost expert at Fairbanks. And it's now starting to get "slushy."
For Ruth Macchione, that meant a more expensive design to her new home after the cabin her husband built in the 1950s sank into the ground. The permafrost under the cabin thawed because the structure wasn't built to keep the ground cold – a key trick in building in cold regions.
Her new home incorporates piers to allow cold air to circulate underneath it.
"Local engineers are getting worried about higher ground temperatures, so they're specifying more pilings to combat that," says Billy Connor, director of the Alaska University Transportation Center. That will mean higher construction costs across the state, Sturm says.
Long summers, early spring
More heat means longer summers. The growing season in Fairbanks has gone from 80 to 120 days since records were first kept in the 1900s, says John Walsh, director of the Center for Global Change and Arctic System Research at the University of Alaska-Fairbanks.
But those summer days haven't come with any more rain, so plants and trees adapted to short, cool summers grow quickly but then dry out while it's still warm. That's one reason forest fires have become such a problem, he says.
Hotter summers aren't just a problem here. In the Midwest and East, a few extra degrees can bring on higher milk prices. That's because cows don't like it hot. When the mercury gets over 80°F, milk production drops.
"Last year, we had herds that were down 5 to 15 pounds of milk per cow, and they'll usually be making 65 to 75 pounds" a day, says Larry Chase, a professor of animal science at Cornell University in Ithaca, N.Y.
In the Midwest, the corn belt is shrinking, says S. Elwynn Taylor, a professor of agricultural meteorology at Iowa State University in Ames. Especially at the western edges in Nebraska and the Dakotas, areas that were marginal for corn and soybeans are now unable to economically grow them.
David Lobell, an environmental scientist at Lawrence Livermore National Laboratory in Livermore, Calif., says that for every 2°F increase in growing-season temperature, farmers can expect a 17% decline in yield for both corn and soybeans.
Taylor isn't convinced that the warming isn't simply part of a larger climate pattern that has been seen in the Midwest since about 1850. He is not alone. Other scientists see warming as part of a cyclical climate change, but they are outnumbered by colleagues who say the planet is warming steadily because human activity is adding to the greenhouse gases.
A landmark 2001 report by the United Nations' Intergovernmental Panel on Climate Change forecast that the average global surface temperature will increase 2.5 to 10°F above 1990 levels by 2100.
In White Mountain, a village of 200 on the western coast of Alaska near Nome, stocking up the larder is harder now for Rita Buck, a native Alaska Inupiaq and health practitioner at the town clinic.
Buck's year used to be a steady flow of work. First came salmon fishing, then harvesting berries. Salmonberries, a type of raspberry, would arrive first, then blueberries, blackberries and finally cranberries. Berries make up an important part of the subsistence diet.
But now, she says, the berries are blooming too early, when frost is still a danger. "It freezes all the berry blossoms and stops them growing," she says.
Cherry growers in Michigan, the nation's primary grower of tart cherries for pies, are having much the same problem. Spring now arrives seven to 10 days earlier there than in the 1970s, but cold snaps still come when they always have.
The commonly grown cherry variety isn't cold-hardy, so once it comes out of dormancy, it has no resistance to freezing, says Jeffrey Andresen, an agricultural meteorologist with Michigan State University in East Lansing.
"In 2002, early warming brought the tart cherry crop out of dormancy, and then a two-day freeze in April resulted in an almost complete loss for the year," he says.
Growers may have to plant new, more cold-hardy varieties, which won't be cheap, Andresen says. "You can't just pick up the trees and move them somewhere else."
Milder winters a problem
In Alaska, the sea ice that armors the coastline against winter storms is forming a week later than it used to, says David Atkinson, a Fairbanks professor of atmospheric science.
The state accounting office, worried about the cost of moving at-risk communities, estimates that more than 100 coastal villages potentially face danger as winter storms erode their once-protected shorelines. The open water makes for stronger storms. Some areas have lost 30 to 40 feet of beach in a single storm, Atkinson says.
Warmer winters also are creating problems for California farmers of high-value crops such as peaches, plums, nectarines, almonds, pistachios and walnuts, which need a period of cold in the winter to bloom properly.
A series of warm winters has played havoc with fruit production, says Theodore DeJong, a professor of plant science at the University of California-Davis. Farmers may have to switch out their current trees with low-chill varieties, expensive but at least a solution.
But for the trees that grow plums for prunes, that's simply not an option. It would take 10 to 20 years to develop low-chill varieties of these trees, DeJong says.
Packers already are moving some production to Chile. There could soon come a day when California, which grows 95% to 98% of all plums in the USA, is out of the business entirely.
The health element
The huge fires that have hit Alaska in the past few summers filled the air with so much smoke and ash that people in Fairbanks at times wore dust masks and doctors told asthmatic patients to leave town until the fires were out.
But it doesn't take a fire to make air unhealthy, says Paul Epstein, associate director of the Center for Health and the Global Environment at Harvard Medical School.
U.S. asthma and allergy rates are increasing in part because more carbon dioxide in the atmosphere is supercharging the production of pollen that can trigger them, he says. When carbon dioxide is doubled, ragweed stems grow 10% more but pollen increases by 60%.
"Pollen counts of 120 used to be cause for alert. We're seeing counts like 6,000 now," Epstein says.
Warmer winters also mean insects can survive and thrive in places where the cold used to keep them in check. Lyme disease is spreading beyond the former winter confines of the tick that carries it. And West Nile virus is spreading farther because spring drought amplifies the bird-biting mosquito cycle, Epstein says.
Looking forward
Ten years of change in the Arctic region is a preview of 25 years of change in the rest of the world, says Corell of the American Meteorological Society.
But that's not to say that path is cast in stone. Even researchers such as University of New Hampshire earth science professor Cameron Wake, who tracks such phenomena as the earlier arrival of spring, see a silver lining in this cloud.
"This country is at its best when it has a grand challenge, whether it's World War II or going to the moon," Wake says. "This is the next grand challenge."
First printed May, 2006