Alaska Winter
There's plenty to do during the long sub-zero winter in Alaska
Alaska is a great place to visit in the winter. Skiing, dog sledding, the Aurora Borealis, and winter railroad tours are just a few of the many adventures you can experience. The Northern Lights are incredible especially north of the arctic circle.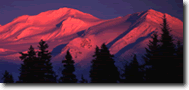 Alyeska Resort:
The resort, nestled at the base of the Chugach Mountains near Turnagain Arm, is an outdoor lover's mecca. Access to the mountain is made easier by the ski area's tram, which climbs Mount Alyeska between 10:30 a.m. and 9:30 p.m. The five-minute ride ends 2,300 feet above sea level with spectacular views of Turnagain Arm and seven glaciers. Tram ticket prices range from $7 to $16.
Alyeska also hosts a variety of summer activities and celebrations including the Alyeska 5-kilometer Fun Run (early July), the Midnight Sun Paragliding Fly-In (early July), the Alyeska Mountain Run (mid-August) and the Blueberry and Mountain Arts Festival (early September). Other activities at the resort include tandem paragliding and guided mountain hikes.
Winter Rail Tours:
Traveling the Alaska Railroad in the winter offers a one of a kind serene experience. The Alaska Railroad operates only on weekends during the winter months. Talkeetna and Fairbanks are the featured destinations for winter rail tours. Prices starting at $338 per person for double occupancy.
Iditarod Sled Dog Race:
The Iditarod Trail Sled Dog Race, usually called the "Iditarod" and known as the "Last Great Race", is an annual dog sled race, where mushers and teams of dogs cover more than 1,000 miles (1,600 km) in less than two weeks, frequently through blizzards causing whiteout conditions, and sub-zero weather and gale-force winds which can cause the wind chill to reach -100° F. The race is the most popular sporting event in Alaska, and the top mushers and their teams of dogs are treated as celebrities; this popularity is credited with the resurgence of recreational mushing in the state since the 1970s. While the yearly field of more than fifty mushers and about a thousand dogs is still largely Alaskan, competitors from fourteen countries have completed the event including the Norwegian Robert Sørlie, who became the first international winner in 2003. The Iditarod became famous outside the state largely because of media attention directed at Libby Riddles, a longshot who became the first woman to win the race in 1985; and then at Susan Butcher, who became the second woman to win the race in 1986, and went on to dominate the race for half a decade.
Portage Glacier:
Portage Glacier is one of the most visited sites in the area, the Begich, Boggs Visitor Center overlooks Portage Lake in Portage Valley, a short drive south of Girdwood along the highway. Exhibits focus on Portage Valley, Prince William Sound, Alaska animals and Native stories. A 20-minute film, "Voices From the Ice," shows several times daily. San Francisco Website Design