Ketchikan Alaska
The Salmon Capital of the World
Visiting Ketchikan, Alaska should be on everyone's itinerary. The small town of Ketchikan is at the foot of the Tongass Rainforest. This picturesque fishing town is five hundred miles north of Seattle and Alaska's first visit for most cruise ships. As the gateway to Misty Fiords, the salmon fishing capital of the world, and the Tongass National Forest, it is a very popular cruise ship port. Its historic downtown, wedged between water and forested mountains, becomes saturated in summer with cruise ship tourists. Ketchikan is built into steep hills and partly propped on wooden pilings, with boardwalks, wooden staircases and totem poles dotted throughout. Ketchikan is best known for three things: tons of salmon, idyllic scenery, and an incredibly rich Alaska Native culture.

Forests of cedar, hemlock and spruce, which had provided timber for Tlingit and Haida homes and totems, also fed the town's sawmills. The timber and fishing industries have declined, and with the closure of the antiquated pulp mill in 1997, the economy is in a state of flux. The state's fourth largest city is a strong contender for the nation's wettest; annual precipitation averages 165 inches. The tourist board shrugs it off as liquid sunshine and, indeed, Ketchikan's perennial drizzle and sporadic showers won't spoil your visit to the rainforest.
History of Ketchikan:
The town dates back to 1883, when a salmon saltery was built. Two years later, businessmen from Portland, Oregon, hired Mike Martin to investigate possibilities for building a salmon cannery on the banks of Ketchikan Creek. By the early 1900's, Martin and the cannery's manager, George Clark, had set up a partnership and had opened a saltery and a general store. Two years later, with the fishing trade flourishing, Ketchikan was definitely in business. And by 1900, with a population of 800, the town was officially incorporated.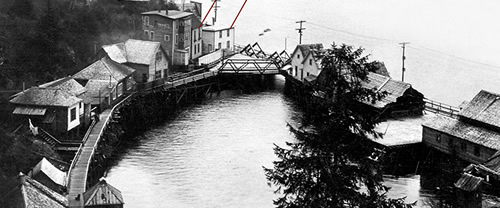 With mining activities beginning in the area, Ketchikan became an important trading community, with an estimated two-thirds of miners' wages reportedly ending up in the bars and bordellos of Creek Street. Despite a mining decline, the fishing industry and timber operations began to grow with establishment of the Spruce Mills early in the century. Today, the logging industry has nearly disappeared and Ketchikan is now starting to focus on another mainstay, tourism.
Tongass and Cape Fox Tlingits have used Ketchikan Creek as a fish camp which they called "kitschk-hin," meaning creek of the "thundering wings of an eagle." The abundant fish and timber resources attracted non-Natives to Ketchikan. In 1885, Mike Martin bought 160 acres from Chief Kyan, which later became the township. The first cannery opened in 1886 near the mouth of Ketchikan Creek and four more were built by 1912. The Ketchikan Post Office was established in 1892. In the late 1890s, nearby gold and copper discoveries briefly brought activity to Ketchikan as a mining supply center.
By 1936, seven canneries were in operation, producing 1.5 million cases of salmon. The need for lumber for new construction and packing boxes spawned the Ketchikan Spruce Mills in 1903, which operated for over 70 years. Spruce was in high demand during World War II, and Ketchikan became a supply center for area logging. A $55 million pulp mill was constructed at Ward Cove near Ketchikan in 1954. Its operation fueled the growth of the community. The mill's 50-year contract with the U.S. Forest service for timber was canceled after criminal activity by its owners, and the pulp mill closed in March 1997.
For history on Ketchikan visit the Tongass Historical Museum website.
Cultural Attractions and Events:
Cultural attractions include the Totem Bight State Historical Park, Saxman Totem Park and Carving Center, Ketchikan Totem Heritage Center Museum; Tongass Historical Museum; Creek Street Historic District and the infamous Dolly's House. Cultural events and festivals including the Festival of the North (February); Celebration of the Sea (April); Fourth of July Timber Carnival (July); King of Kings Salmon Derby (June); Little League Salmon Derby (May-June); Race to Alaska boating race (June); Blueberry Arts Festival (August); Winter Arts Fair (Nov); and the Festival of Lights (December).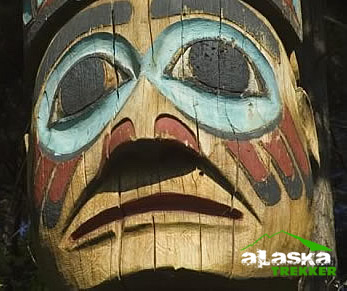 Misty Fjords:
The magnificent Misty Fjords National Monument is a pristine masterpiece. It's fjords were created by massive glacier action in the ice-rimmed wilderness. Here is one of the country's greatest treasures and some of Alaska's most spectacular scenery. It's 2.3 million acres include soaring cliffs, saw-tooth ridges shrouded in mists, sky-blue lakes, hanging valleys, countless waterfalls, bottomless saltwater fjords, and miles of glaciers. The monument is also home to a multitude of wildlife.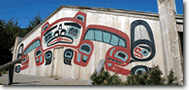 Saxman:
Two miles south of town, is Saxman Village and the largest collection of totem poles in the world. Native art and culture flourishes here due to the large population of Native Alaskans. Gaze at the many massive totem poles, timeless monuments in cedar from the first Alaskans. Native dance comes alive with regular performances by skilled groups at the Saxman Tribal house.
Totem Bight:
The Totem Bight State Historical Park is ten miles north of Ketchikan. The 11-acres park has 15 restored and re-carved totems as well as a colorful community house. Totem Bight also has one picnic shelter that can be reserved. The park sits among a lush rainforest and the rocky coastline of Tongass Narrow and has beautiful views of the ocean and a kelp forest along the beach.
Sportfishing:
Huge runs of salmon migrate from the open ocean, around Prince of Wales Island, and into the protected waters of the Inside passage near Ketchikan. This mass gathering of five species of salmon is the reason that this area is known as the "Salmon capitol of the world". This region of Alaska is particularly noted for its strong runs of trophy fish. The finest salt water fishing for giant halibut, red snapper, ling cod, and rock cod is also available.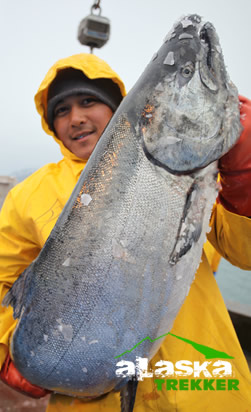 Flightseeing:
Depart the Ketchikan waterfront and immediately enter the lush wilderness of the Tongass National Forest with an experienced Alaska bush pilot. Whether you want to land on a mountain lake, fly over fjords, view glaciers and wildlife or just enjoy the phenomenal and breathtaking beauty of the last frontier. Scheduled services are also available to Prince of Wales, Metlakatla, and Hyder.
Ketchikan Weather:
Bring your rain coat! Ketchikan lies in the maritime climate zone noted for its warm winters, cool summers, and heavy precipitation. Summer temperatures range from 51 to 65; winter temperatures range from 29 to 39. Ketchikan averages 162 inches (13.5 feet!) of precipitation annually, including 32 inches of snowfall.
Location:
On Revillagigedo Island, 1 1/2 hours from Seattle; 2 1/2 hours from Anchorage.
Transportation:
Ketchikan is the first port of call in Alaska for cruise ships and Alaska's Marine Highway System vessels. The Inter-Island Ferry Authority provides daily, year-round ferry service between Ketchikan and Hollis on Prince of Wales Island and twice-a-day service during the Summer. The community harbor and docking facilities include a breakwater, a deep draft dock, five small boat harbors, a dry dock and ship repair yard, boat launch, and a State ferry terminal.
Regularly-scheduled commercial jet services offer northbound and southbound departures daily. The airport lies on Gravina Island, a 10-minute ferry ride to the downtown.
Ketchikan has numerous air taxi and sea plane tour companies with service to surrounding communities.
Town Services:
Ketchikan has many services available for visitors. Accommodations are available at the hotels, hostels, bed and breakfasts, Forest Service cabins, and RV parks. There are car rentals, taxi cabs, a transit system, outdoor gear rentals, and emergency/medical services available as well as grocery stores and many restaurants and eateries.