Seward Alaska
Gateway to Kenai Fjords National Park
Situated at the head of Resurrection Bay on the Kenai Peninsula, Seward is one of Alaska's oldest and most scenic communities. Known as the "Gateway to Kenai Fjords National Park" Seward is a picturesque town located 126 miles south of Anchorage. Visitors can easily reach Seward via the Seward Highway Scenic Byway, the Alaska Railroad, bus, air, or cruise ship. At 3,022 feet, towering Mt. Marathon provides a breathtaking backdrop for the town. Behind Mt. Marathon and extending down the coast lies the Harding Icefield, measuring 35 by 20 miles. Flowing from the Harding Icefield are many glaciers, eight of which are tidewater glaciers, calving icebergs into the sea, reaching the coastline between Seward and Homer. Exit Glacier is 9 miles from town. The Seward Sea Life Center is at the edge of town.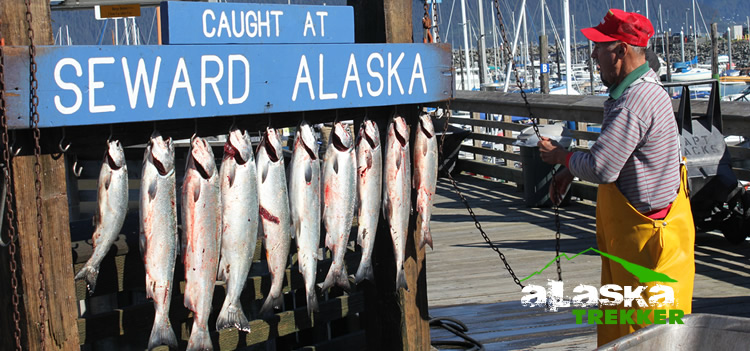 Seward Highway:
The route has few mileage markers and varies from two lanes each way to one lane each way, with few dividers. This forces drivers to pay attention to oncoming traffic and not be mesmerized by the scenery.
The latter is extremely difficult because most of the first 50 miles of Alaska skirt the base of the craggy, normally snow-covered Chugach Mountains, which rise abruptly to more than 4,000 feet and are visible to the left as you head southeast.



To the right, the road hugs the shoreline of the Turnagain Arm, a narrow, glacier-carved, murky body of water that forks off Cook Inlet and washes over stark mud flats. Across this choppy branch loom more snowcapped peaks that are creased with waterfalls and seem to extend forever in the mist.
Fortunately, there are eight pullouts on the water side where visitors can absorb the spectacle at their leisure and read well-designed kiosks that explain everything from the 1890s gold rush that took hold in this area to the origins of the National Historic Iditarod Trail, which runs through Crow Pass.
Depending on the season, passengers may see endangered beluga whales cruising up and down the arm (spring through fall) or black ice floes playing bumper car after breaking loose from the shore (spring).
Moose and mountain-roaming Dall sheep wander the surrounding 495,000-acre Chugach State Park (the nation's third-largest). Farther south, toward Girdwood, salmon and hooligan (smelt) attempt to spawn in valley streams before they're devoured by eagles and bears.
More creatures are easily seen at the non-profit Alaska Wildlife Conservation Center (AKA to Alaskans: Big Game Alaska) near Portage Glacier. There, injured, ill and orphaned creatures roam in large lots on the 140-acre complex, giving visitors who pay the $12.50 entrance fee (as of January 2015) up-close views of elk, caribous, moose, coyotes, Sitka black-tailed deer, great horned owls, bald eagles, porcupines, grizzly and black bears, buffaloes and musk oxen.
Scars from the 1964 Good Friday earthquake, which measured a near-record 9.2 magnitude and killed 115 people, still are visible around Girdwood, and some of the Chugach glaciers visible from the road slowly are shrinking, likely because of global warming.
But the tinge of danger seems appropriate for America's last true frontier. Like the gold prospectors, hunters, fur trappers and native peoples before them, today's drivers will find a mother lode of adventure along the road.
Alaska SeaLife Center: (Highly Recommended)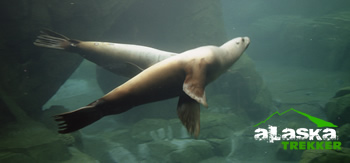 The Alaska SeaLife Center is the world's first marine science facility designed from the start to combine a research mission with wildlife rehabilitation facilities and public education. The center welcomes some 150,000 visitors per year to better understand the rich underwater ecosystems of Alaska. While the center's Steller sea lions, octopus, harbor seals, and puffins remain visitor favorites, there is always something new to see. Among the many species of fish, crabs, birds, and other sea creatures, visitors will find a touch tank open for gentle exploration and learning.
Located at 301 Railway Avenue on the edge of Resurrection Bay in Seward.
The Alaska SeaLife Center is handicapped accessible. Admission: Adults – $20
Call 1-800-224-2525, or visit the web: www.alaskasealife.org

Exit Glacier:
Exit Glacier is one stop you must put on your itinerary. There is nothing more awesome than walking right up to the face of a glacier that you can almost touch. The shear size of the glacier dwarfs visitors who stand in awe of this slow moving sea of ice. Exit is a small glacier in comparison to many others in Alaska.
Exit Glacier is part of the Kenai Fjords National Park which lies south and west of Seward, 130 road miles south of Anchorage, on the Seward Highway. You can also drive two hours from the Kenai/Soldotna area to reach Seward. Both routes provide a very scenic and enjoyable drive on a well-maintained highway system and traverse through mountains and along rivers and lakes to give you an idea of how rugged and primitive Alaska still is only minutes from our largest city.
See our Exit Glacier page.
Sportfishing:
The waters around Seward are some of the most pristine and beautiful in the world. The ocean here is teeming with trophy halibut, lingcod, rockfish, and in season, hundreds of thousands of Coho salmon. Typically, the halibut and rockfish are very plentiful from mid-April until the end of September. The Coho salmon are in full force by early July and strong until early September. King Salmon can be caught year round in Seward. Every trip is a fantastic sightseeing excursion. Whales, sea otters, Stellar sea lions, and an incredible variety of sea birds are regularly seen. The Fishhouse is a booking agent for over 60 vessels in Seward.
Location:
Seward is situated on Resurrection Bay on the east coast of the Kenai Peninsula, 127 miles south of Anchorage on the Seward Highway.
Access:
Seward is unique among most small Alaskan communities in that it has road access in the Seward Highway, a National Scenic Byway and All-American Road, which also brings it bus service. Seward is also the southern terminus of the Alaska Railroad. This keeps the port busy with freight coming on and off the trains, but also makes Seward a primary end point for north-bound cruise ships. Cruise ship passengers get off the boats and take the train farther north to Denali or other Alaskan attractions.
Accommodations:
11 hotels/motels, 37 bed and breakfasts, 25 lodges/cabins, 20 restaurants/cafes/snack bars.