Alaska Bear Safety
Bear safety is to be taken seriously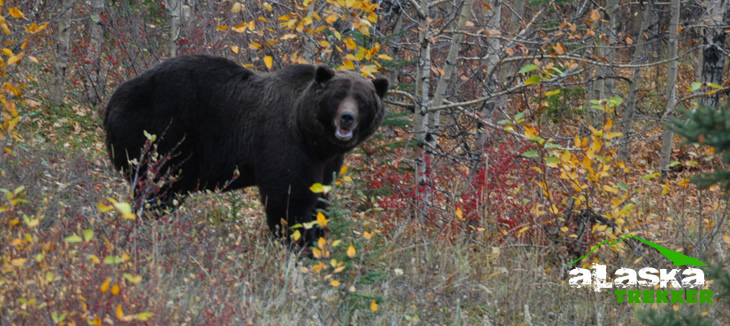 Even though bear attacks at the national parks are extremely rare, here are some tips that will help you to minimize risk if you are traveling in bear country.
Campsites and Picnic grounds:
Do not cook or store food in or near your tent. Keep a clean campsite by properly disposing of garbage, washing your dishes, and wiping down table tops. Hang food and anything with strong odors (toothpaste, bug repellent, soap, etc.) out of the reach of bears, if possible (at least ten feet above the ground and five feet from the tree trunk). If no trees are available, store your food in airtight or specially designed bear–proof containers. Avoid taking odorous foods (they attract bears) and keep food smells off your clothing. Burn garbage completely in a fire and pack trash out (don't bury it). Food and garbage are equally attractive to a bear so treat them with equal care.
On the trail or in the backcountry:
Avoid surprising bears at close range. If you are hiking through bear country, make your presence known, particularly where the terrain or vegetation makes it hard to see. Make noise, sing, talk loudly, or wear a bell. If possible, travel with a group. Groups are noisier and easier for bears to detect.
Bears may be active at any time of the day or night, but they tend to be more active at dawn and dusk. Plan your hikes accordingly and stay on established trails. There are several indicators that may alert a backcountry traveler that a bear is in the area. Some of the most easily identifiable clues include rub trees, diggings, scat, and tracks. Identifying these clues may help to prevent an encounter.
One myth is that bears are attracted to the scent of a menstruating woman. Bear experts say that is rumor, not fact. Leave your dog at home. Pets and bears don't mix. Learn and obey the rules and regulations of the wilderness and other areas you're hiking in.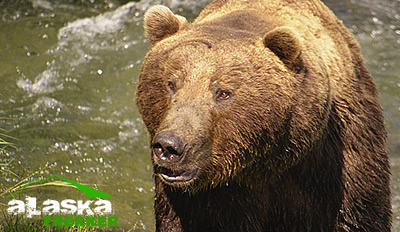 If you Encounter a Bear:
(Read this and remember it. Bears are everywhere, including inside the city limits of Anchorage)
Remain calm and avoid sudden movements. Give the bear plenty of room, allowing it to continue its activities undisturbed. Every bear has a zone of danger or personal space — that is, the distance within which a bear feels threatened. If it changes its natural behavior (feeding, foraging or movement) because of your presence, you are too close. If you stray within that comfort zone, a bear may react aggressively in the form of a bluff charge, bodily contact, or even an outright attack. If you spot a bear and the bear is unaware of you, detour quickly and quietly away. If spotted by a bear, try to get its attention while it is a good distance away. Help the bear to recognize that you are human, by talking to it in a normal voice or waving your arms. If a bear cannot tell what you are, it may come closer or stand on its hind legs to get a better look or smell. A standing bear is usually curious, not threatening. Some bears will bluff their way out of a threatening situation by charging, then veering off or stopping abruptly at the last second. Bear experts generally recommend standing still until the bear stops and then slowly backing away.

Never run from a bear !
Running may elicit a chase from an otherwise non-aggressive bear, and since they can run faster than 30 mph, you have no chance of outrunning them.
Never feed or toss food to a bear. Climbing a tree to avoid bears is popular advice but not very practical in many circumstances. All black bears, all grizzly cubs, and some adult grizzlies can climb trees. Running to a tree may provoke an otherwise uncertain bear to chase you.
Throw something onto the ground (like a camera) if the bear pursues you, as it may be distracted by this and allow you to escape. If you carry pepper spray, be sure that you have trained with it before trusting it during an attack. (From the Alaska Dept. of Fish and Game)