Anchorage Alaska
Alaska's largest city and gateway to the wilderness
The gateway for tourism and travel in Alaska, Anchorage is a hub of activity 24 hours a day. Its mild summer weather is a big draw. From its early days as a railroad camp in a spruce and birch forest, Anchorage has grown into Alaska's largest city and the first stop for many visitors. Anchorage is a modern city in a beautiful setting laid out between the Chugach Mountains and Cook Inlet, and within sight of Denali, the continent's tallest peak.

Travel in any direction from Anchorage and find an abundance of wilderness experiences – watchable wildlife, glaciers, mountains, northern lights, recreation and adventure. Winter visitors are thrilled to find spectacular opportunities for outdoor fun. Mild winter climate, snow-covered mountains and forests, an award-winning trail system, and miles of untracked snow create the ideal conditions for winter activities such as alpine and Nordic skiing, snowboarding, dog sledding, ice fishing, snowshoeing and more.
Anchorage has its share of asphalt and tall buildings, but nature still runs wild. Spawning salmon migrate up Anchorage streams, and anyone walking through the woods may come face to face with a moose.
Anchorage History:
(From Wikipedia) – Anchorage, unlike every other large town in Alaska south of the Brooks Range, was neither a fishing nor mining camp. The area within tens of miles of Anchorage is barren of significant economic metal minerals; there is no fishing fleet operating out of Anchorage. The city grew from its happenstance choice as the site, in 1914, of a railroad construction port for the Alaska Railroad. The railroad was built between 1915 and 1923. Ship Creek Landing, where the railroad headquarters was located, quickly became a tent city; Anchorage was incorporated on November 23, 1920. The city's economy in the 1920s centered around the railroad. Between the 1930s and the 1950s, the city experienced massive growth as air transportation and the military became increasingly important. Merrill Field opened in 1930, and Anchorage International Airport opened in 1951. Elmendorf Air Force Base and Fort Richardson were constructed in the 1940s.
On March 27, 1964, Anchorage was hit by the magnitude 9.2 Good Friday Earthquake, which killed 115 Alaskans and caused $2.1 billion in damage (2015 U.S. dollars). The earth-shaking event lasted nearly five minutes; most structures that failed remained intact the first few minutes, then failed with repeated flexing. It was the second largest earthquake in the recorded history of the world. Rebuilding dominated Anchorage in the mid 1960s.
In 1968, oil was discovered in Prudhoe Bay, and the resulting oil boom spurred further growth in Anchorage. In 1975, the City of Anchorage and the Greater Anchorage Area Borough (which includes Eagle River, Girdwood, Glen Alps, and several other communities) merged into the geographically larger Municipality of Anchorage. The city continued to grow in the 1980s, and capital projects and an aggressive beautification campaign took place.
Anchorage Climate:
Anchorage has a subarctic climate but with strong maritime influences that moderate temperatures. Average daytime summer temperatures range from approximately 55-78 °F; average daytime winter temperatures are about 5-30 °F. Anchorage has a frost-free growing season that averages slightly over 100 days.
Anchorage summers are typically mild (although cool compared to the contiguous US and even interior Alaska), and it can rain frequently. Average July low and high temperatures are 52-66 °F and the hottest reading ever recorded was 92 °F on June 25, 1953. The average annual precipitation at the Anchorage airport is around 16 inches. Anchorage's latitude causes summer days to be very long and winter daylight hours to be very short. Anchorage city is often cloudy during the winter, which decreases the amount of sunlight experienced by residents.
Things to do in Anchorage Alaska
Alaska Zoo:
Caribou, Dall sheep, reindeer, Siberian tigers, musk ox, seals, moose, and various Alaskan birds call this home.
General daytime admission Rates:
$20/non-resident adult (age 18+)
$17/Alaska resident adult (age 18+, show Alaska ID, no student ID's)
$15/senior (age 65+) or military adult (age 18+, active duty and veteran proof)
$10/youth (age 3-17)
Ages 2 and under are FREE
• Discounts only to each ID shown at time of purchase.
• *Valid Alaska Driver's License/ID needed for resident discount. Other forms of proof of residency are also accepted including an Alaska voter registration card or anything that states that you live at an Alaska address. Student ID's will not be accepted on their own, as a proof of residency in Alaska is required.
• **Military ID's: We accept Active Duty, Retired, Veteran and Dependents of the United States Military only.
Open: May-Labor Day, daily 9-6; Labor Day-Apr., daily 10-5. AlaskaZoo.org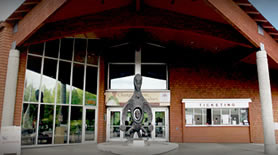 Alaska Native Heritage Center:
8800 Heritage Center Drive, Anchorage, Alaska 99504
Phone: (907) 330-8000
Toll-Free at (800) 315-6608
Summer Hours: 9 am to 6 pm
2023 Summer Admission Rates
$29/adults (18-64)
$25/seniors (65+)
$19/kids (4-17)
$14 adult AK resident and military with ID
$12/child AK resident
Description: An educational and cultural institution for all Alaskans, the Alaska Native Heritage Center provides programs in both academic and informal settings, including workshops, demonstrations and guided tours of indoor exhibits and outdoor village sites. Local residents and visitors to Alaska are introduced to Native traditions and customs of both the past and present. The Welcome House is a celebration of contemporary Alaska Native cultures while the outdoor facilities and sites allow the exploration of ancient tradition and the presentation of stories from the past. The Center provides a unique opportunity to experience Alaska's Native cultures in one location.
AlaskaNative.net
Sportfishing:
For a metropolitan area, the Anchorage bowl offers a surprising amount of good fishing. Streams and lakes in the area and nearby hold king, silver, pink chum, and red salmon; rainbow trout, Dolly Varden, lake trout, burbot, pike, grayling, smelt and whitefish.
Flightseeing:
Depart Lake Hood with an experienced Alaska bush pilot. Whether you want to land on a mountain lake, fly over fjords, view glaciers and wildlife or just enjoy the phenomenal and breathtaking beauty of the last frontier. Scheduled services from Anchorage are also available to Denali, Fairbanks, North Slope, Kenai Peninsula, the Mat-Su Valley and many other locations.
Location:
Anchorage is located in the Southcentral region of Alaska, 358 miles south of Fairbanks, 37 miles northwest of Girdwood and 127 miles north of Seward. It is a three-hour flight from Seattle.
Access:
Anchorage is centrally located in Alaska with more than 280 flights serviced daily by domestic and international airlines. Anchorage can be reached from anywhere in North America via the Alaska Highway. The Glenn and Seward highways lead into Anchorage and the Alaska Railroad travels between Anchorage from Fairbanks, Whittier and Seward.
Accommodations:
Anchorage has more than 8,000 hotel/motel rooms and more than 850 bed and breakfast/hostel beds. There are more than 600 restaurants/eateries.