Alaska Cruise
Smaller cruise ships get you closer to the action
One of the most popular things to do in our state is take an Alaska Cruise. A cruise can feature glaciers, wildlife, great food, entertainment, interesting ports of call and fascinating tours along way and you only have to unpack once! There are a number of different cruise itineraries in Alaska offered by most of the major lines. We highly recommend the Gulf of Alaska cruise itinerary offered by Princess Cruises. These week-long cruises travel between Seward and Vancouver, BC with either a northbound or southbound itinerary. Highlights include Glacier Bay National Park, College Fjord in Prince William Sound, and interesting port towns like Skagway, Juneau and Ketchikan. Shore excursions are available in each port, from historic railroad trips to landing on a glacier by helicopter. Princess Cruises offers the newest ships in this Alaska market featuring the Sun Princess, Coral Princess, Dawn Princess and Island Princess. These fabulous ships are often called "floating cities", with features like numerous restaurants, lounges, Broadway style entertainment, casinos, health clubs, movie theaters, libraries, and more. Alaska cruises represent a great value – combining your transportation, meal, entertainment and sightseeing expenses into one reasonable fare.

Small Ships
Enjoy the beauty and wildlife of Alaska and the Pacific Northwest from the luxury of your own small cruise ship. The sheltered waters of Alaska's Inside Passage, Prince William Sound, and Puget Sound offer the adventurous visitor the best of the Pacific Northwest wilderness: wide sea lanes dotted with uninhabited islands, narrow straits that meander through deep fjords, quiet coves surrounded by snow-capped peaks, cascading waterfalls, and spectacular tidewater glaciers. Thousands of miles of coastline provide endless opportunities to explore beaches and mountains of several national and state parks.
Smaller Alaska Cruise lines

"Phillips Cruises and Tours, LLC provides Prince William Sound glacier cruises to Alaska residents and visitors from around the world. Our award-winning glacier cruises depart from Whittier, Alaska – the Gateway to Prince William Sound. Glaciers are our specialty. Our cruises get up close to these massive rivers of ice where the captain will stop so you can listen for the snap, crackle, and splash echo against the towering mountains of the Chugach National Forest."
PREPARE TO BE AMAZED What is it that makes something wondrous? Is it the feeling you have when you are standing on the deck of Regatta watching pods of whales hunt for prey in the channels of the Inside Passage? Or is it the sounds of nature as you hike through the pristine Alaskan rainforests near Wrangell? The largest tidewater glacier in North America, Hubbard Glacier will amaze you, while the immense size of Tongass National Forest near Sitka is almost impossible to conceive. Whether soaring over the plunging cliffs of Ketchikan's Misty Fjords in a floatplane or watching the Alaskan brown bear feed along salmon streams, whatever your definition of the word, Alaska is nothing short of wonderful.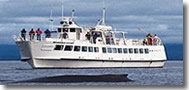 We specialize in small ship expedition cruises and wilderness adventures for individuals, couples, families, small groups and charters. Find the perfect trip at the best price. Research destinations, trips, small ships and lodges then call our award-winning small ship cruise experts.
Major Alaska Cruise lines
It's a journey equal parts exhilarating and inspiring. Sail into the crystal waters of the Great Land with Princess Cruises, voted "Best Cruise Line in Alaska". Revel in the feeling of stepping off your ship in three of Alaska's most charming towns – Skagway, Juneau and Ketchikan. Set sight on Alaska's abundant wildlife in their natural habitats, from breeching 40-ton humpback whales in the sea, roaming bears on land and soaring bald eagles in the air. Every Alaska itinerary features a day dedicated to viewing spectacular glaciers, whether you prefer 7-day cruises sailing roundtrip from Seattle, or 10-day roundtrip cruises from San Francisco, which feature even more days at sea, more sites to see in Victoria, B.C., and is an itinerary exclusive to Princess Cruises!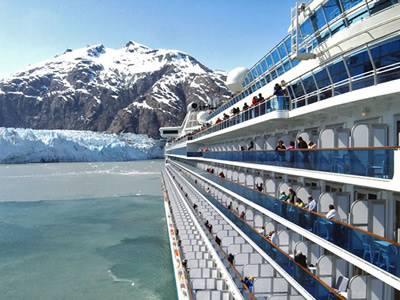 Filled with icy fjords that tower over the Pacific Ocean while snowy peaks stretch towards the horizon, Alaska feels boundless. Yet incredibly intimate as you watch eagles nesting along coastal forests. Norwegian let's you explore all sides of Alaska the way locals see it, up close and personal on an Alaska cruise. Or head deeper into the frozen wilderness on an Alaska Cruisetour. Experience the thrill of a 30 ton whale gliding under your catamaran. Kids' faces will light up like the midnight sun as they enjoy exclusive Nickelodeon entertainment on board Norwegian Jewel. Explore more of the Last Frontier on an Alaska cruise with Norwegian.
No journey stays with you, mind and soul, like an expedition through Alaska. From the blue ice of massive glacial fields to the stunning grandeur of the scenery and wildlife, everything in Alaska is big, bold and absolutely breathtaking. Including the adventures. Royal Caribbean International® takes care of all the planning, transportation and lodging for you. Travel in comfort on our deluxe motorcoaches and on the Wilderness Express, our luxurious, plush glass-domed traincars that offer panoramic views of the grand Alaskan frontier. Plus, enjoy the fully escorted multi-night land tours (which can be taken before or after your cruise) that spend at least one night in Denali National Park.