Cordova Alaska Trails
The Chugach Forest is a hikers paradise
The city of Cordova has many trails to hike. It's one of the most beautiful Alaska towns you will ever see and the trails around it are just as scenic.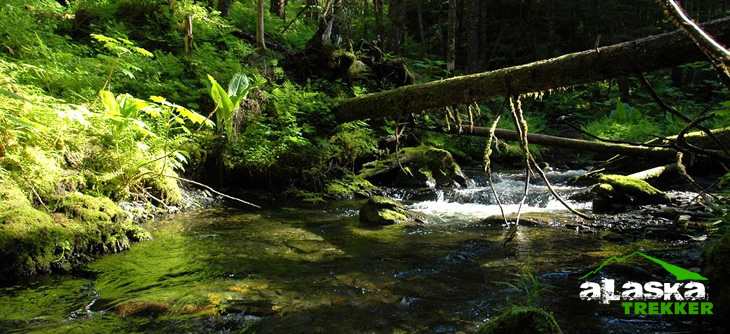 Here is our Cordova page.
Trail information provided by the Cordova Chamber of Commerce
Recommended Equipment and Safety Gear for Hiking Cordova Trails
Whether you are going out for a quick day hike or an extended trip, certain items should ALWAYS be packed for safety.
They include:
[list list_items="Matches/Lighter,Drinking water and food,Local maps,Space Blanket,Tent/Emergency Shelter,Extra clothes,Rain gear,Knife/Multi-tool,Flashlight/Headlamp,First Aid Kit,Compass and Map/Global Positioning System (GPS),Signaling device (e.g. whistle, flares)" icon="fa-icon-ok" icon_color="#92ca1a"]
Glacier Viewing
Many people come to Alaska to see glaciers. From the airplane window you see them dot the landscape below. They dazzle, they amaze, they capture your attention. Spend just one day at a calving glacier and you will find it nearly impossible to tear yourself away.
A sunny day at Sheridan or Saddlebag Glaciers provides a stunning back drop for a picnic to remember. If a hike is your thing then plan to make the 3.1 (5 km) hike to Saddlebag Lake where Saddlebag Glacier resides at the far end of the lake. If a hike isn't on your schedule for the day head to Sheridan Glacier via a short 10 minute walk just past the Sheridan Mountain trailhead. Pick a great picnic spot in the wild flowers or right up and personal with the glacier.
Childs Glacier
While the Copper River Highway is impassible beyond bridge 339 near 36 mile, packing the car with kids, food and gear may be out of the question for now but you can still spend the day with Childs Glacier. Orca Adventure Lodge and Riverside Inn Tours, both special use permit holders with the USFS, both can get you there for a fee. Whichever route you take to spend a day at the glacier, walk, hike, atv or boat you will have a unforgettable day. Check the Business Directory for listings.
Hiking the Chugach Forest
The Chugach Forest is a hikers paradise. The District is nestled between the Copper River Delta and the southeastern end of Prince William Sound and covers approximately 2.3 million acres. Beauty and adventure surrounds this magnificent place. Hiking through this temperate rain forest is a dream. Nearly all the USFS trails are maintained annually. Before you take off into the woods for a day of hiking check with either the Cordova Visitor Center or the USFS Cordova Ranger District for the most current trail conditions. Be sure to pack for the weather, let someone know where you are going and don't forget your camera. Vista's abound!
Backpacking on the Forest requires a little more forethought. You should pack carefully, planning for all eventualities, including the possibility of your trip being a little longer than anticipated. Always let someone else know where you are headed and when you plan to come back. Don't assume that the cabin you are headed to is vacant. Always properly rent the cabin via the USFS site.
Trail maps are available at the visitor center as well as the ranger district.
Chugach Forest – Copper River Delta Trails
Crater Lake Trail
Eyak River Trail
Haystack Trail
Heney Ridge Trail
McKinley Trail
Pipeline Lakes Trail
Power Creek Cabin
Power Creek Trail
Saddlebag Glacier Trail
Sheridan Mountain Trail
Crater Lake Trail
This trail climbs a steep grade passing through mature spruce-hemlock forest to a picturesque alpine bowl where Crater Lake sits. The first half climbs over rough, rocky sections with numerous switchbacks and muddy areas as well as wooden bridges. The second half continues to climb, but at a gentler grade, through hillsides that are abundant with wildflowers during the summer months. A bench is provided midway up the trail for a great view of Eyak Lake. At 1.2 miles and intertie provides access to Eyak Ski Hill Trial. At the lake the hiker has the option to access the Alice Smith Intertie or climb Mt. Eyak. The entire loop from Crater Lake trailhead to Power Creek trailhead is 12 miles (approximate time is 10-12 hours).
Length: 2.4 miles
Time: 4.5 hours round trip
USGS Map: Cordova C-5
Access: Power Creek Road mile 1.5
Difficulty Level: More Difficult
Eyak River Trail
This trail follows the west bank of the Eyak River for one quarter mile through mature Sitka spruce forest before opening into rolling muskeg meadows. At mile 1.5 the trail reunites with Eyak River for the remainder of the distance before reaching Mountain Slough. At the end of the trail the flora composition changes to a typical delta habitat of dense alder and grasses. This is a popular access site for anglers during the coho salmon season from August to mid-September. The trail is muddy and wet in places, especially after heavy rain. Portions of this trail are "17(b)" easements.
Length: 3.3 miles (5.3 km)

Time: 5 hours round trip

USGS Map: Cordova C-5

Access: Copper River Highway mile 5.7

Difficulty Level: Easy
Haystack Trail
This short, mostly boardwalk trail winds through spruce-hemlock forest to a knoll overlooking the Copper River Delta. From this spectacular vantage point, one may view the Gulf of Alaska, Kayak Island and many species of wildlife, especially trumpeter swans and moose. The trail has several places to rest and relax.
Length: .8 miles
Time: 1.2 hours round trip

USGS Map: Cordova B-4

Access: Copper River Highway mile 19.2
Difficulty Level: Easy
Heney Ridge Trail
The first section of trail follows the contour of Hartney Bay and offers excellent bird watching and wildlife spotting opportunities. Spawning salmon may also be viewed from mid-July to August. The next two miles moderately climb through spruce-hemlock forest and muskeg areas scattered with wildflowers. The last mile is a steep climb onto Heney Ridge following rock cairns above tree line. Once on the ridge you are treated to spectacular views of the Copper River Delta, the Prince William Sound, and Kayak Island (on clear days). There are many unique wood structures to assist hikers with traversing the varied terrain. The trail is muddy and wet in places, especially after heavy rain.
Length: 3.7 miles Time: 5.5 miles round trip

USGS Map: Cordova B-5 & C-5

Difficulty Level: Intermediate to Difficult
McKinley Trail
This well maintained trail winds its way through mature spruce-hemlock forest and ends at the north end of McKinley Lake. Several bridges allow hikers easy crossing over small streams. This trail also provides access to two public use recreation cabins. McKinley Trail Cabin (100 yards beyond the trailhead sign) and McKinley Lake Cabin (at the end of the trail). A rough, unmaintained trail continues for 1/4 mile past the lake cabin accesses the remains of the Lucky Strike Mine. Interpretive signs guide the visitors through the history and remains of the abandoned mine and mining camp. Midway, Pipeline Lakes Trail joins McKinley Trail for an optional loop.
Length: 2.4 miles (3.9 k)

Time: 3.6 hours round trip

USGS Map: Cordova (B-4)

Access:
Difficulty Level: Easy
Pipeline Trail
Most of this trail is boardwalk. The first 3/4 mile passes through dense spruce-hemlock forest before opening up into muskeg meadows that offer impressive views of the Chugach Mountains. Short spur trails provide fishing access to five small lakes with populations of cutthroat trout up to 12 inches in length. At the junction with the McKinley Lake trail there is an option of returning to the highway or continuing north to McKinley Lake cabin.
Length: 1.8 miles (2.9 km)

Time: 2.7 hours round trip

USGS Map: CORDOVA (B-4)

Access #1: Copper River Highway mile 21.4

Access #2: Via McKinley Lake Trail

Difficulty Level: Easy
Power Creek Trail
This trail follows the river through Power Creek drainage, then leads the hiker up several switchbacks. Midway, at the beginning of Surprise Valley, the recently built Cordova Electric Hydropower Dam can be seen. The last half of the trail follows the creek up the Power Creek Basin, passing by several beaver ponds and hanging glaciers to the Power Creek Cabin**. The cabin site has wonderful panoramic views of the valley and surrounding mountains. At mile 3.0 the Alice Smith Intertie accesses the Crater Lake Trail. The entire loop from Power Creek trailhead to Crater Lake trailhead is 12 miles.
Length: 4.2 miles (6.8 km)

Time: 6 hours round trip

USGS Map: Cordova C-5

Access: End of Power Creek Road mile 6.9

Difficulty Level: Moderate
Saddlebag Glacier Trail
This well-drained, level trail winds its way through stands of cottonwood and spruce trees, and guides the hiker through a small, glaciated valley to the outlet of Saddlebag Lake. Split log bridges at several small stream crossings aide the hiker during high water periods. From the lake outlet, Saddlebag Glacier can be viewed at the far end of the lake. Mountain goats can often be spotted on the cliffs on either side. The lake usually has icebergs near the outlet.
Length: 3.1 miles (5 km)

Time: 4.5 hours round trip

USGS Map: CORDOVA B-4 

Access: Via Copper River Highway to mile 24.6. Turn north

Difficulty Level: Easy
Skiing & Snowboarding
Mt. Ekak Ski Area
Mt. Eyak Ski Area is located in Cordova, Alaska and operates 1 of 2 remaining single chairlifts in North America. This historic lift was first installed in 1936 at Sun Valley, Idaho on Mt. Baldy's Christmas Ridge. In 1974 this lift was moved to Cordova, Alaska and installed above town on the southern slopes of Mt. Eyak. With a vertical rise of 960 feet the lift serves 3 main runs with countless shots through trees and glades encompassing an area of over 600+ acres. The lift also accesses backcountry on the upper slopes of Mt. Eyak. A rope tow serves a beginner slope with a length of 300' and a vertical rise of 50'. Mt. Eyak has a full service rental shop and food service is available. Mt. Eyak operates from November to April on weekends, holidays & and powder days (snow permitting).