Juneau Alaska
The beautiful Capitol of Alaska
The Tongass Rainforest climate provides Juneau Alaska with lush vegetation and colorful wildflowers. Early settlers included miners during Alaska's gold rush and Russian fur traders. The Tlingit and Haida Indians were the first settlers to the Juneau area. Native Alaska influence is prominent today all around Juneau.
Built on a relatively narrow shelf between towering Mt. Juneau and the deep waters of Gastineau Channel, Juneau is the Inside Passage's largest city, the Alaska state capitol, and a rewarding destination for glacier viewing.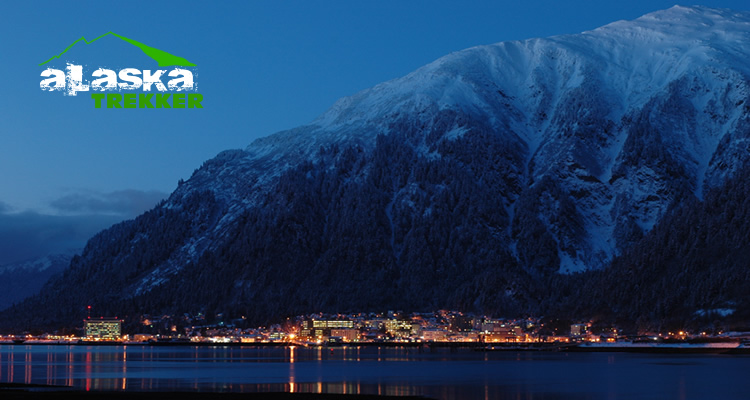 Juneau Alaska History:
Juneau was named after gold prospector Joe Juneau. The Tlingit name of the town is Dzántik'i Héeni "flounder creek". From before the time of European settlement in the Americas, the Gastineau Channel was a favorite fishing ground for local Tlingit Indians who had inhabited the area for thousands of years. The native cultures are rich with artistic traditions including carving, weaving, singing and dancing.
In 1880, Sitka mining engineer George Pilz offered a reward to any local chief who could lead him to gold-bearing ore. Chief Kowee arrived with some ore and prospectors were sent to investigate. On their first trip, to Gold Creek, they found little of interest. However, at Chief Kowee's urging, Pilz sent Joe Juneau and Richard Harris back to the Gastineau Channel, directing them to Snow Slide Gulch, the head of Gold Creek, where they found nuggets "as large as peas and beans," in Harris' words. On October 18, 1880, the two men marked a 160 acre town site where soon a mining camp appeared. Within a year the camp became a small town, the first to be founded after Alaska's purchase by the United States.
In the beginning, the town was called Harrisburg after Richard Harris; some time later its name was changed to Rockwell. In 1881 the miners met and renamed the town Juneau, after Joe Juneau. In 1906, after the diminution of the whaling and fur trade, Sitka, the original capital of Alaska, declined in importance and the seat of government was moved to Juneau.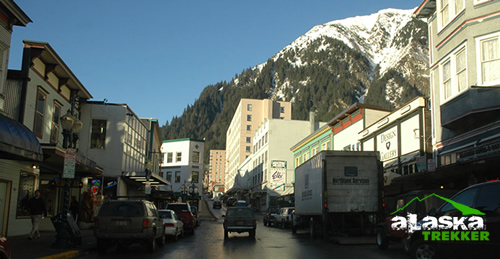 After gold was found, a mining camp sprung up, and the town was organized in 1881. By the turn of the century, the placer miners had wandered on, but large underground mines were being developed. Juneau was a gritty mining town up through the 1940s. The mines shut down during World War II under wartime orders, as they were not considered essential to the war effort. Once granted statehood in 1959, and aided by the completion of the Alaska Pipeline in 1977, Juneau grew with the growth of state government. That growth slowed considerably in the 1990s and the state demographer expects the borough to grow very slowly over the next twenty years.
Places To Go In Juneau Alaska:
While in Juneau, have a look at: Perseverance Trail, Rainforest Trail, Indian Point-Auke Bay Trail, Channel Islands Paddle Route, and Auke Recreation Area. Juneau is also a jumping off point for wildlife viewing, exploring Tracy Arm Fjord, Mendenhall Glacier, the Juneau Icefield, and the Glacier Gardens.
Also visit the Alaska State Museum, capitol building and Governor's house, the South Franklin Street Historic District; St. Nicholas Russian Orthodox Church; Shrine of St. Terese; Point Bridget State Park; Douglas Island; Treadwell Mine Historic Trail and Mount Roberts Tramway.
Mendenhall Glacier:
Mendenhall Glacier is just 9 miles from downtown Juneau. Visitors can get close up views of its mighty face measuring 200 feet tall and 1.5 miles wide. Glacier Bay is 50 air miles to the west. Juneau Icefield, a spectacular expanse of mountains and glaciation, is the source of all the glaciers in the area, including Mendenhall, Taku, Eagle, Herbert and 38 other glaciers within a 1,500-square-mile radius. See Mendenhall Glacier Mt. Roberts Tram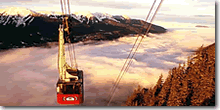 Mt. Roberts Tramway:
At the cruiseship dock. (907) 463-3412. A day pass for 2005 is $23.95 for an adult and $12.50 for a child age 7 to 12. A six-minute ride glides from the dock area to an elevation of 1,760 feet, above the trees. The tram shuts down for the winter – October through May.
Tracy Arm Cruise:
Tracy Arm Fjord is one of the most dramatic sites in the world. This narrow fjord twists and turns for over 30 miles, culminating in a spectacular view of the twin tidewater Sawyer Glaciers. Your captain will navigate as close as the ice floe allows, stopping for an extended stay at the face of the glacier. Watch for seals relaxing on the icebergs, bald eagles soaring above the cliffs and many other animals that call this area home.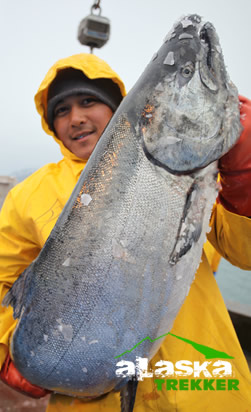 Sportfishing:
The Juneau area has an abundance of places to fish. You can fish from land or a boat in Juneau. This region of Alaska is particulary noted for its strong runs of trophy fish. The finest salt water fishing for giant halibut, red snapper, ling cod, and rock cod is also available. Try the Juneau fish hatchery dock for easy fishing or charter a boat.
Weather:
Juneau has a mild, maritime climate. Average summer temperatures range from 44 to 65; winter temperatures range from 25 to 35. It is in the mildest climate zone in Alaska. Annual precipitation is 92 inches in downtown Juneau, and 54 inches ten miles north at the airport. Snowfall averages 101 inches.
Location:
Located on the mainland of Southeast Alaska, opposite Douglas Island, Juneau was built at the heart of the Inside Passage along the Gastineau Channel. Juneau lies 900 air miles northwest of Seattle and 577 air miles southeast of Anchorage. 1 1/2 hours by jet from Anchorage or 2 hours by jet from Seattle.
Transportation:
Alaska's Marine Highway System offers regular ferry service to Juneau from many points, including Bellingham, Washington, and Prince Rupert, British Columbia. There is also daily service between Haines, Skagway, and Juneau from May through September. AMHS offers an affordable alternate to air travel for passengers who are traveling on foot, and want to enjoy and explore the Southeast Passage.
Juneau is accessible by air from Anchorage or Seattle with service provided by Alaska Airlines. Alaska Airlines partners with other major commercial U.S. carriers making connections from other points in the United States and abroad for travelers wanting to visit Juneau. Smaller communities within Alaska can connect to Juneau via commuter carriers such as Air North.
The airport is located 9 miles from downtown and the ferry terminal is located 14 miles from downtown Juneau.
Once in Juneau, taxi cabs offer standard city rate fares while many hotels and lodges provide free airport and ferry terminal shuttles. Rental cars are available at the airport. The local public transit system is useful and widely accessible.
Juneau Alaska Services/Accommodations:
Juneau has full services for accommodations, food, amenities, outdoor equipment rentals including skiffs and kayaks, car rentals, transit, camping, laundry, showers, medical and emergency service
12 hotels/motels, 50 bed and breakfasts (over 900 rooms), 64 restaurants, two large enclosed shopping malls, many other shopping centers in downtown and outlying areas.
Here's the Juneau tourist site for more information.