Alaska Rafting
Rafting is available for all ages
Alaska offers a spectacular array of rafting opportunities, from southeast Alaska to the state's interior, from short half-day guided river floats to multi-day fly in raft trips to Alaska's backcountry. Few locations, however, are more popular for Alaska rafting than Denali National Park. In the summer season there are a half dozen or so Denali rafting companies operating near Denali National Park, taking tens of thousand of Alaska visitors rafting on the Nenana River each summer.

Denali National Park:
Denali National Park covers more than 6 million acres, and is home to 20,300 foot Mt. McKinley, abundant wildlife and some of Alaska's best rafting. Nearly all raft trips travel the Nenana River, which flows to the north through the Alaska Range and borders the eastern side of Denali National Park. The Nenana River offers great Alaska rafting adventures, from calm float sections to class III and IV whitewater rafting. While longer trips are available, most Denali rafting participants choose one of the two to three hour raft trips, which operate within 10 to 12 miles of the Denali Park entrance. These trips include float trips to the south of the Denali Park entrance and Alaska whitewater rafting trips to the north. Rafts are typically around eighteen feet long and hold six to eight passengers plus an experienced Denali rafting guide. Usually the raft guide is at the oars, but paddle trips are sometimes available if you want part of the action.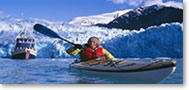 Tatshenshini and Alsek Rivers:
The Tatshenshini and Alsek are twin prongs of a river draining what's perhaps the most impregnably wild mountain country in North America – the St. Elias and Alsek ranges, the heights of which are protected by Wrangell St. Elias National Park and Canada's Kluane National Park. Frequent touted as the most out-there river journey you can make on this continent, either arm pierces a dizzyingly vertical landscape of permanent snowfields; wildlife that includes grizzlies, Dall sheep, mountain goats, and caribou; and waters made turquoise-blue by glacial silt. There's also plenty of whitewater froth – Class III rapids on the Tat, and big, bruising Class V's on the Alsek. Raft these rivers and you'll feel a profound, deepening sense of time traveling, as you move from the infant lands of the headwaters down toward the lush, fully developed temperate rain forest at the rivers' joint mouth in the northern arm of Glacier Bay National Park.