(Utqiagvik) Barrow Alaska
Barrow (Utqiagvik) is the northernmost city in Alaska

Barrow (Utqiagvik) Alaska is 340 miles north of the Arctic Circle, the largest municipal government in the world, and the nation's farthest northern community. The Barrow area is probably the harshest polar location in Alaska. Barrow has a large Eskimo population and is frequently visited by the polar bear. Barrow's population was 4,683 at the 2000 census and 4,212 at the 2010 census. In July 2013, the population estimate was 4,373, suggesting a slight increase
Barrow (Utqiagvik) is surrounded by the National Petroleum Reserve–Alaska.
The city of Barrow has three sections, which can be classified as south, central, and north, and are known to residents as Barrow, Browerville, and NARL, respectively.
The southernmost of the sections, known locally as the "Barrow side", is the oldest and second largest of the three; it serves as downtown. This area includes Wiley Post-Will Rogers Memorial Airport, Barrow High School, North Slope Borough School District, Fred Ipalook Elementary School, as well as restaurants, hotels, the police station, the Barrow City Hall, a Wells Fargo bank, and numerous houses.
The Central section is the largest of the three, and is called Browerville. This has traditionally been a residential area for the city of Barrow, but in recent years many businesses have opened or moved to this area. Browerville is separated from the south section by a series of lagoons, with two connecting dirt roads. This area, in addition to the houses, includes Tuzzy Consortium Library, the US Post Office, Eben Hopson Middle School, Samuel Simmonds Memorial Hospital, the Iñupiat Heritage Center, two grocery stores, one hotel and two restaurants.
The north section is the smallest and most isolated of the three sections, known to the residents as NARL because it was originally the site of the Naval Arctic Research Lab. It is connected to the central section only by Stevenson Street, a two-lane dirt road. What once was NARL is now Ilisagvik College. This area also includes a small broadcasting station, which is run by the college students.

Long Winters, Long Summers:
The sun sets on November 18 or 19, and it remains below the horizon for about 65 days. This creates a polar night that lasts until the sun rises again around January 22 or January 23. During the first half of the polar night, there is a decreasing amount of twilight each day, and on the winter solstice (around December 21 or December 22), civil twilight in Barrow lasts for a mere 3 hours.
The sun doesn't set from the beginning of May until the first of August. Over 90 days straight of daylight.
Barrow Climate:
Barrow has the lowest average temperatures of cities in Alaska. Although it is rare for Barrow to record the lowest temperatures statewide during cold waves, extremely low wind chill and "white out" conditions from blowing snow are very common. Temperatures remain below freezing from early October through late May.
The high temperature is above freezing on an average of only 120 days per year, and there are 160 days of sub-0 °F. Freezing temperatures, and snowfall, can occur during any month of the year.
In terms of precipitation, Barrow has a desert climate, and averages less than 5 inches (127 mm) "rainfall equivalent" per year. One inch of rain possesses approximately equal water content to 12 inches of snow. According to 1971−2000 normals, this includes 29 inches of snow, compared to 101 inches for Kuujjuaq in Nunavik, Quebec or 84 inches and 77 inches for much warmer Juneau and Kodiak, Alaska, respectively. Even Sable Island, at around 44 degrees latitude and under the influence of the Gulf Stream, receives 44 inches, or 52 percent more snowfall than Barrow.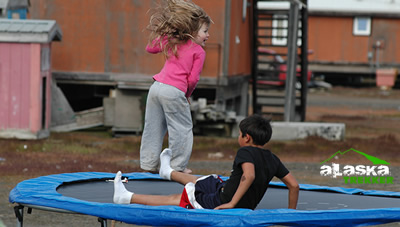 Natives:
A federally recognized tribe is located in the community, the Native Village of Barrow; Inupiat Community of the Arctic Slope. 64% of the population are Alaska Native or part Native. The majority of residents are Inupiat Eskimos. Traditional marine mammal hunts and other subsistence practices are an active part of the culture.
Polar Bears:
Polar bears live along shores and on sea ice in the icy cold Arctic. When sea ice forms over the ocean in cold weather, many polar bears, except pregnant females, head out onto the ice to hunt seals. Polar bears have been spotted on sea ice hundreds of miles from shore. When the warm weather causes the sea ice to melt, polar bears move back toward shore.

Polar bears primarily eat seals. Polar bears often rest silently at a seal's breathing hole in the ice, waiting for a seal in the water to surface. Once the seal comes up, the bear will spring and sink its jagged teeth into the seal's head.
Sometimes the polar bear stalks its prey. It may see a seal lying near its breathing hole and slowly move toward it, then charge it, biting its head or grabbing it with its massive claws. A polar bear may also hunt by swimming beneath the ice.
Bowhead Whale:
Whales are a large part of the Barrow way of life. Bowhead, gray, killer and beluga whales migrate near Barrow every summer. Continuing an ancient Inupiat tradition, an annual bowhead whale hunt and festival is held every spring.
History:
Before it was Barrow, it was known as Utqiagvik. The name means "place where owls are hunted" in Inupiat. Barrow takes its current name from Point Barrow, which was named for Sir John Barrow of the British Admirality in 1825. British Navy officers were in the area to explore and map the Arctic coastline of North America. In 1935, the famous humorist Will Rogers and pilot Wiley Post made a planned stop 15 miles south of Barrow on an air trip. After they took off again, their plane stalled and plunged into a river, killing them both. Two monuments are located at the crash site.Barrow
The residents of the area cast the lone vote in opposition to passage of the Alaska Native Claims Settlement Act, which passed in December 1971. In 1972, the North Slope Borough was established. The borough used millions of dollars in new revenues to create roads, sanitation services, water and electrical services and health and educational services in the area.
Location:
On the Chukchi Sea coast, the community is located 10 miles southwest of Point Barrow which is the northernmost point of the United States; 725 air miles from Anchorage, 3 hours by jet via Fairbanks.
Access:
Scheduled jet service from Anchorage and Fairbanks, air taxi service.
Accommodations:
Four hotels (100+ rooms); six restaurants (seating for 370). Food and most supplies, Native arts and crafts.