Known to Alaskans as the "Blue Canoes"
Want to have a great time and see the real Alaska up close and personal? Try the Blue Canoes (as Alaskans call them). The Alaska Marine Highway System achieved the nation's highest designation for a scenic route. It is one of only 27 highways in the country that have been designated as an All-American Road. The 3,500-nautical-mile ferry route connects 33 ports and stretches from Bellingham, Wash., to the Aleutian Islands. Alaska Marine Highway ships run for 8,834 miles from Bellingham north to Skagway, across the Gulf of Alaska, into Prince William Sound, and out to Dutch Harbor, the tip of the Aleutians.
Additional service is offered across the Gulf of, Alaska stopping in Valdez and Whittier. The M/V Tustumena provides service from Homer, Kodiak, and Dutch Harbor.

Blue Canoes:
Established in 1963, four years after Alaska became a state, the Alaska Marine Highway System celebrates 40 years of ferry service along the byway. A fleet of nine ferries, equipped with cabins and cafeterias, serves 33 coastal communities and offers a non-touristy, no-frills way to cruise our 49th state. You'll meet real Alaskans and view the same dramatic scenery and wildlife that draw cruise ships to the Inside Passage. A U.S. forest ranger is often onboard during the summer, offering daily free naturalist programs. Ferry rates vary, depending on how far you travel and whether you bring a vehicle.

Food and Beverage Service:<
The Alaska Marine Highway System serves hot meals, snacks, and beverages on all vessels. The M/V Tustumena and the M/V Columbia also provide full-service dining rooms. Vending machines make a variety of foods and beverages available around the clock. The cafeteria menu includes Alaska seafood, hot meals, salads, sandwiches, yogurt, fruit, juices and snacks. (Spendy and bland from personal experience!)
Alaska Marine Highway Cabins:
Cabins are available on the M/Vs COLUMBIA, MALASPINA, MATANUSKA and TAKU in the Southeast System, and the M/V TUSTUMENA serving the Southwest/Southcentral Systems, and are sold as a unit. Most cabins feature private bathroom facilities. Room service or daily makeup of cabins is not available. However, trash is collected daily and fresh linens are available on request. The M/V KENNICOTT has a limited number of Roomettes, these rooms have only 2 berths and no facilities, BUT, are relatively inexpensive. Sleeping bags are welcome in these rooms. (A cabin of any size is highly recommended from my years of personal experience, especially during the summer when the boats are packed to the rafters.)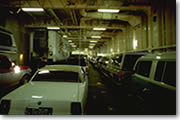 Roughing it:
They don't make it easy for you. Passengers without cabins will find a very limited number of recliner chairs and spaces to roll out sleeping bags. (Pro tip: On most of the older boats the thick seat cushions slide off so you can lay a few of them down for sleeping at night – Alaskans have been doing this for years!). Summers can be packed to the rafters. It can also be cold and stark on the outside decks under the heat lamps. Many adventurous travelers put up small tents on the deck. Pillows and blankets are available for rent on most sailings. All vessels have public showers.
Recreational Vehicles:
Please notify your agent if your vehicle is an RV or motor home. While the fares are the same as the standard rates, for information purposes, these vehicles are booked under a separate code.
Passengers do not have access to the car deck while underway until just before arrivals, so RVs and motor homes may not be used for dining and sleeping on the trip.
Electrical hookups for vehicle refrigeration units are not available, and bottled gas containers on the RV must be turned off and sealed by a Marine Highway employee at the time of boarding.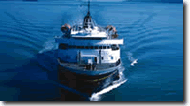 Baggage:
Foot passengers may bring hand luggage only, with weight up to 100 pounds total. (So they say, I've cruised over a dozen times and not once was checked for carry-on weight, nor was anyone else.) To help passengers get their hand luggage on board, baggage carts* are driven to the car deck. (*No baggage carts are available on the M/V TUSTUMENA) Passengers are responsible for the handling and safety of their luggage. Baggage handling is not provided. There is no weight limit on luggage carried in or on a vehicle. Coin-operated storage lockers are available aboard most ships for storage of small hand-carried items. Unaccompanied baggage is not allowed on board Alaska Marine Highway vessels.
It is considered freight and must be shipped via commercial carrier or U.S. mail.
Transporting a Vehicle aboard the Alaska Marine Highway:
Any vehicle that may be driven or towed legally on the highway may be transported aboard an Alaska Marine Highway vessel. Vehicle fares are determined by the vehicle's overall length and width, motorcycle fares will be booked at the 10 ft. length. Vehicles 8-1/2 to 9 feet wide will be charged approximately 125% of the listed fare. Vehicles over 9 feet wide will be charged approximately 150% of the fare listed for the vehicle length. If you are towing a vehicle, the overall connected length is used to determine fares. Access to the car deck is prohibited while underway. Escorted trips are periodically announced by the purser between Bellingham and Ketchikan and you have access to your vehicle while the vessel is in port.
For more information check out the Official Alaska Marine Highway website.
For fare info here.
For schedules here.
The Vessels:
The following vessels, from smallest to largest, currently serve in the Alaska Marine Highway's fleet:
Mainline Ferries
MV Columbia
MV Kennicott
MV Matanuska
MV Tustumena
Day Boat & Shuttle Ferries
MV Aurora
MV LeConte
MV Lituya
MV Hubbard
MV Tazlina