Russian River Fishing
Alaska's extremely popular sockeye salmon fishery
The Russian River is a 13-mile-long river on the Kenai Peninsula that flows northward from Upper Russian Lake in the Kenai Mountains through Lower Russian Lake, draining into the Kenai River. The waters are fairly shallow with a hard-packed gravel bottom, which makes it very easy to navigate. The Russian River Ferry at the confluence of the rivers carries foot-passengers to the busiest combat-fishing spot in Alaska. Be prepared for crowds when the salmon run hot. During the peak it's not uncommon to fish within 4 feet of another fisherman – on both sides of you!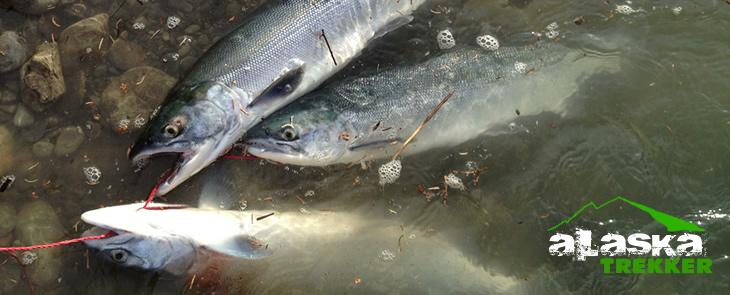 Russian River Ferry:
The Russian River Ferry is a privately operated ferry at the confluence of the rivers carrying foot-passengers. There is a $12 fee (Cash, checks, or money order ONLY). It's about 5 miles back to Cooper Landing to get cash from an ATM if you don't have any $$ on you. Not to mention that you'll lose your parking spot and have to pay again! The area parking lot is known as the Kenai/Russian River Access and Sportsman's Access Site.



The Russian River Ferry starts running at 6am and stops at 11pm. If you are stranded on the other side after 11 you can walk to the Russian River Campgrounds by crossing the river.
Russian River Checklist:
– Waders – Don't even think of trying to fish there without them.
– Cash for ferry/campground/parking
– Russian River flies – 15 minimum per person.
– Split shots for weight (PSS-3 by Water Gremlin) Use 2 or 3 depending on water speed.
– Filet knife/stringer/large ziplocks
– Bottled water/food (no food or water for sale there)
– Club or net for landing. I haul them onto the shore and club them but some use nets.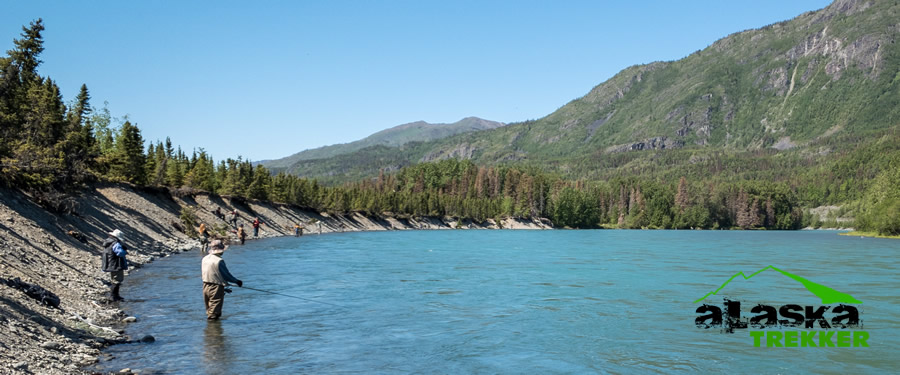 Russian River Flies:
Weather you fish with a fly rod or not, the Russian River is a single hook fly area only. No lures or bait of any kind. All fishing tackle shops and Alaska Walmart's have flies called Russian River flies. Yes Russian River flies! Many sections of the Russian River/Upper Kenai are considered fly fishing only. This does not refer to the fishing rod or the fishing style, but to the terminal tackle.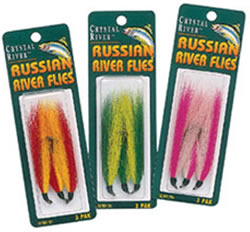 Two Separate Runs:
Two distinct sockeye salmon runs return to the Russian River. The early-run usually arrives by June 15, with the historic midpoint of the run occurring on June 27. Most of the early-run fish have completed their migration by mid-July, although in some years the fish are late, or hold in the Kenai River. The early-run averages about 41,000 fish, and the Russian River Sockeye Salmon Management Plan sets the early-run escapement range at 22,000-42,000 sockeye salmon past the weir. Anglers generally harvest about one-half of this run. The second run usually arrives in mid-July and is the larger of the two runs, averaging around 72,000 fish. The management plan sets the late-run escapement range at 44,000-85,000. About 21,000 of these fish are harvested by anglers; however, many more are harvested by lower river anglers, personal use, and commercial fisheries. Although thousands of fish return each year to the Russian River, there may be considerably more or fewer fish due to egg survival during winter months, rearing conditions at Upper Russian Lake, ocean survival, and the size of the commercial sockeye harvest in Cook Inlet.
Ask around to find out when the fish are running, if you fish in between runs (unless you are going for trout in certain areas), you are wasting time and money. (The motels and lodges out there aren't going to tell you that when booking your reservation!)
Red Salmon – Sockeye:
Known to fishermen in Alaska as reds, the sockeye is historically our most valuable fish because of its high oil content and ability to hold its bright red flesh color. Russian River sockeye salmon use the mainstream river as well as its tributary streams to spawn. Each female salmon lays 3,000-4,500 eggs, which hatch in late winter. The fry emerge from the gravel in early spring and immediately enter Upper Russian Lake. Most early-run Russian River sockeye salmon spend two years in the Upper Russian Lake and three years at sea before returning in their sixth year of life to spawn and die. The average adult early-run salmon weighs about 6 pounds, but a few grow to about 10 pounds. Most late-run salmon return to the Russian River in their fifth year of life, after spending two years in freshwater and two years in saltwater. They are a little smaller, since they have one less year of ocean growth than early-run fish.
Silver Salmon – Coho:
Silver salmon have silver sides and dark-blue backs and put up a great fight with lots of jumping. Alaskans look forward to "Silver Season" in August. Silver's usually weigh 8 to 12 pounds and are 24 to 30 inches long, but individuals weighing 36 pounds have been landed. The best part about fishing for silvers at the confluence is that the place is usually empty and crawling with fat fish.
King Salmon – Chinook:
You must release all king salmon on and near the Russian River confluence. You are also not allowed to land them. You must release them in the water – no lifting them up for pictures. Fish cops are everywhere along the river, be smart about it and you'll be fine.
Russian River Webcam:
Here's the webcam link to the road near the ferry.

Russian River Falls and Campground:
The 83 camp site Russian River Campground is the largest and one of the most popular campgrounds in the Chugach National Forest. The campground along the Russian River is one of the most organized and well laid out units in Alaska.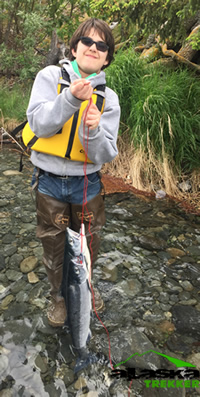 All 83 Russian River sites are RV suitable and paved.
Drinking water, flush toilets, vault toilets, Dump Station
Fee Area – Maximum stay 3 Days
2 Day-Use Parking Areas are provided. User Fee required.
Grayling parking area can accommodate 30 vehicles
Pink Salmon parking area can accommodate 68 vehicles
Day Use Parking is limited to 12 hours per vehicle.
There are foot trails for hikers along the Russian River to the viewing platform at the Russian River Falls.
The campground is located along the Russian River itself and affords the visitor the opportunity to fish the clear waters of the river and observe the fish you are trying for. The river is of modest size and during most years is easily wadable using hip boots or waders. Fish cleaning tables are provided at key locations along the river and access from the campground to the river uses several stairway structures along the embankment overlooking the river valley.
Location:
There is no direct road access to the river. It can be accessed either by hiking in or by the privately operated ferry that crosses the Kenai and takes fishermen to the mouth of the Russian. The Russian River Fishing area is located 110 miles south of Anchorage, about a 2 hour's drive through some of Alaska's most spectacular roadside scenery. Located on the Kenai Peninsula, accessible by road from the Russian River campground. Closed to all fishing April 15 – May 30. Check regulations for limits and other restrictions that apply to the season you will be fishing.
Cooper Landing
Cooper Landing is a little town just before you get to the Russian River from Anchorage. There you can get fuel, fishing tackle, and there are many motels and a few convenience stores.
For the rafters in the group – Cooper Landing is best known as the starting point for raft trips down the Kenai River. A number of companies run raft trips ranging from gentle floats to Class III whitewater in the Kenai Canyon.
The Entire Area is Crawling with Bears
The Russian River is a bear magnet. Use common sense and don't be like this guy. If you fish at night and wander through the forest with fish on a stringer, you are begging to be mauled. Similar to the rest of the Kenai Peninsula, brown and black bears inhabit this area, searching for salmon for themselves and/or their young. Unfortunately, the food sources they often find are coolers full of lunches, stringers of fish, and other sources of human generated food.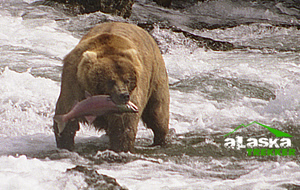 Fishing in Bear Country
You are responsible for your own safety in bear country. In any outdoor activity – fishing, wildlife viewing, hiking, hunting, picnicking, berry picking, even going to work – you may encounter bears. Be aware of your surroundings and conditions, especially in times of low light and areas of low visibility. Look up and around every few minutes. Check the immediate area for fresh bear signs. Consider moving to a different spot if such signs are encountered.
Don't make it easy for bears to find food – garbage, birdseed, picnics, fish, or game, for example. When you catch a fish you intend to harvest, immediately kill your fish, then bleed it into the water. Bleeding into the water quickly clears the blood from the fish, thus improving quality. It also reduces the chance that blood, which may attract the attention of bears, will get onto clothing or the stream bank.