Race to Alaska – 2018
Race 750 miles to Alaska any way you can
A
wild and adventurous boating/kayaking/rowboat competition called the Race to Alaska has been launched by the
Northwest Maritime Center
. The Race to Alaska starts on June 14th, 2018 at 5AM in Port Townsend, Washington and finishes over 750 miles away at Thomas Basin Boat Harbor in
Ketchikan, Alaska
. One brave winner will get $10,000. Race to Alaska co-founder Jake Beattie said he likes to think of the race as, "a cross between the traditional canoe journeys of the Native people that have been plying this route since time began mixed with the winner-take-all, Gold Rush energy that this route really became famous for in European culture."
Live satellite boat tracking will be available online after the Race to Alaska starts.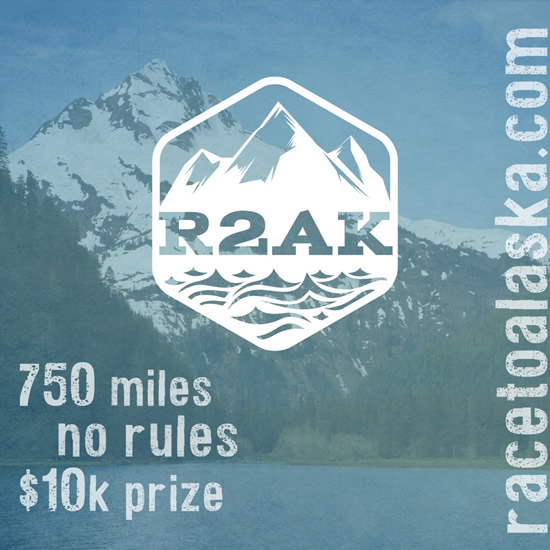 From the Race to Alaska website: R2AK is simple: Get a boat w/o a motor. Race 750 miles to Alaska any way you can. Don't get eaten by a bear- $10,000 if you're first. There are no support boats or safety nets so choose your boat and crew well- Other than the bears and killer whales you're on your own.
The Race to Alaska is a self-supported, engine-less 750 mile boat race from Port Townsend to Ketchikan with a $10,000 prize to the winner, second place gets a set of steak knives. This will be the first race up the inside passage, and the longest race of its kind in North America. To preserve the experience, we limited the requirements to the bare minimum: Get a boat without an engine, start in Port Townsend, Finish in Ketchikan, don't have a support crew. Nature and competition will provide enough challenge without us cluttering it up with a bunch of rules.
The inside passage to Alaska has been paddled by native canoes since time immemorial, sailing craft for centuries, and after someone found gold in the Klondike the route was jammed with steamboats full of prospectors elbowing each other out of the way for the promise of fortune. It's in the spirit of tradition, exploration, and the lawless self-reliance of the gold rush that Race to Alaska was born. R2AK is the first of its kind and North America's longest human and wind powered race, and currently the largest cash prize.
The physical endurance, saltwater know-how and bulldog tenacity to navigate the 750 cold water miles from the Lower 48 to Alaska.
We'll guarantee blisters, mild hypothermia, and the cathartic elation that comes from accomplishing something others would call impossible.
And if you cross the line first we'll hand you a pile of cash.
From Alaska's KRBD. "Really we just wanted to keep it as simple as possible," said Jake Beattie, the race's co-founder. "We wanted to strip it down to its bare minimum so the race was as pure as the root itself. Get a boat without an engine. Go to Alaska."
Rules:
Bring a boat to Port Townsend on June 8th, finish in Ketchikan, don't have a motor, be self-supported along the way. Other than two waypoints the route choice is yours.
Teams may resupply food / equipment, rent a room, do laundry, eat at restaurants, even service their boats along the way. The intent is to be un-supported between towns, and function self-supported when in towns. Any services utilized must always be available to all challengers and not pre-arranged. No private resupply, support boats, food drops, etc.
Entry Requirements:
•VHF radio
•Sound signal
•Navigation lights
•Flares for signaling distress at night
•An approved PFD (lifejacket) for everyone onboard
•A throwable floatation device
Entry fees:
$750 a team, and $20 per person for the full race,
$50 per team and $20 per person if you are only doing the first stage to Victoria.
On the web at the Race to Alaska website .
See the Race to Alaska map here.