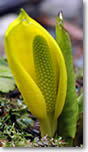 Skunk Cabbage Flower

The Skunk Cabbage is a large-leafed plant that grows in wet areas, especially near streams, ponds, marshes, and wet woods. It is easy to recognize, with its huge leaves rising directly from the ground.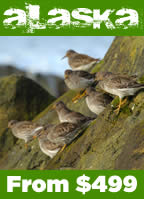 Alaska Trees
Alaska Trees and Descriptions
---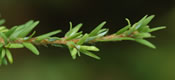 Western Hemlock


The Western Hemlock (Tsuga heterophylla) is a large evergreen coniferous tree growing to 150-200 feet tall, with a trunk diameter of up to 8 feet. It is the largest species of hemlock, with the next largest (Mountain Hemlock T. mertensiana) reaching a maximum of 140 feet. It is native to the west coast of North America, with its northwestern limit on the Kenai Peninsula, Alaska, and its southeastern limit in northern Sonoma County, California. It is closely associated with temperate rain forests, and most of its range is less than 75 miles from the Pacific Ocean. There is however an inland population in the Rocky Mountains in southeast British Columbia, northern Idaho and western Montana. It mostly grows at low altitudes, from sea level to 2,000 feet, but up to 6,000 feet in the interior part of its range in Idaho.

Western Hemlock boughs are used to collect herring eggs during the spring spawn in southeast Alaska. The boughs provide a easily collectible surface for the eggs to attach to as well as provide a distinctive flavor. This practice orginates from traditional gathering methods used by Native Alaskans from southeast Alaska.



Red Alder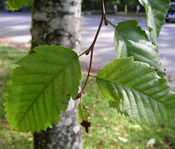 Red Alder (Alnus rubra) is a deciduous tree native to western North America, from southeast Alaska south to central coastal California. It is the world's largest species of alder, reaching heights of 70-140 feet. The name derives from the bright rusty red color that develops in bruised or scraped bark.



Sitka Spruce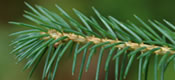 The Sitka Spruce (Picea sitchensis) is a large evergreen tree growing to 120-180 feet tall, and with a trunk diameter of 3-5 feet. It is by far the largest species of spruce, and the third tallest tree species in the world (after Coast Redwood and Coast Douglas-fir). Sitka Spruce is native to the west coast of North America, with its northwestern limit on Kodiak Island, Alaska, and its southeastern limit near Fort Bragg in northern California (Griffin & Critchfield 1972). It is closely associated with the temperate rain forests and is found within a few kilometers of the coast in the southern portion of its range.

Sitka Spruce is a long-lived tree, with individuals over 700 years old known. Because it grows rapidly under favorable conditions, large size may not indicate exceptional age. The Queets Spruce has been estimated to be only 350 to 450 years old, but adds more than a cubic meter of wood each year.

A unique specimen with golden foliage that used to grow on the Queen Charlotte Islands, known as Kiidk'yaas, is sacred to the Haida Native American people. It was illegally felled, although saplings grown from cuttings can now be found near its original site.

Sitka Spruce is of major importance in forestry for timber and paper production. It is used widely in piano, harp, violin, and guitar manufacture, as its high strength-to-weight ratio and regular, knot-free rings make it an excellent conductor of sound. The Steinway and Sons piano company is well known for using exclusively Sitka spruce soundboards in its pianos. The harp company, Lyon and Healy, is well known for it use of Sitka spruce for the soundboard of their harps as well. This wood is an important material for homebuilt aircraft for the same reasons.

Outside of its native range, it is particularly valued for its fast growth on poor soils and exposed sites where few other trees can be grown successfully; in ideal conditions young trees may grow 4 feet per year. It is naturalized in some parts of Britain where it was introduced in 1831 and New Zealand, though not so extensively as to be considered an invasive weed tree.

Newly grown tips of Sitka Spruce branches are used to flavour spruce beer and are boiled to make syrup.

The root bark of Sitka Spruce trees is used in Native Alaskan basket-weaving designs.



Yellow Cedar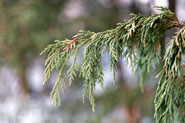 This species goes by many common names including Nootka Cypress, Yellow Cypress, and Alaska Cypress. Even though it is not a cedar, it is also often confusingly called "Nootka Cedar", "Yellow Cedar", "Alaska Cedar", or even "Alaska Yellow Cedar". Its name derives from its discovery on the lands of a First Nation of Canada, the Nuu-chah-nulth of Vancouver Island, British Columbia, who were formerly referred to as the Nootka. Nootka Cypress is native to the west coast of North America, from the Kenai Peninsula in Alaska, south to northernmost California, typically occurring on wet sites in mountains, often close to the tree-line, but sometimes also at lower altitudes.



Related Topics
---
ALASKA PLANTS
ALASKA FLOWERS
ALASKA BIRDS
BERRY PICKING