See Nathan Jackson carving a totem pole.
(33 sec)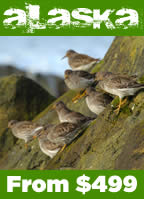 Alaska Totem Poles
Early totem poles were like billboards
The most well known type of art made by Alaska Natives is the totem pole. No Alaska vacation is complete without seeing a few. Carver Nathan Jackson (the most famous carver in the world) works at the Saxman Carving Shed in Saxman, two miles south of Ketchikan. You can see him work there most days during the summer.
How to prepare a king salmon for the smokehouse from Dennis Zaki on Vimeo.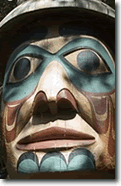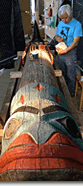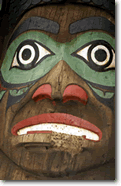 Usually Misunderstood:


Since they were first noticed by European explorers in the 1700s, totem poles may have been misunderstood. Britain's Captain James Cook, who encountered totem poles off the coast of British Columbia, called them "truly monstrous figures."

Early missionaries thought the poles were worshipped as gods and encouraged them to be burned. And even today, when someone refers to the "low man on the totem pole," they may not realize that the bottom figure was often the most important one -- and usually, it wasn't a man.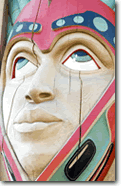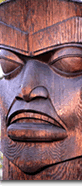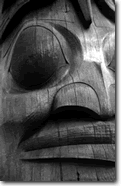 Billboards?:


Early totem poles were like billboards for rich and powerful native families, telling stories about the family and the rights and privileges it enjoyed. With early traders came more wealth, and more poles, some accounts talk about 19th-century native villages with hundreds of totem poles, each one shouting out the power and wealth of the family behind it.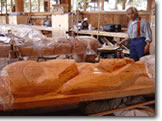 Saxman:


Two miles south from Ketchikan, is Saxman Village and the largest collection of totems poles in the world. Native art and culture flourishes here due to the large population of Native Alaskans. The indigenous Pacific Northwest Indian tribes are the Tlingit, Haida, and Tsimshian. Gaze at the many massive totem poles, timeless monuments in cedar from the first Alaskans. Native dance comes alive with regular performances by skilled groups at the Saxman Tribal house.



Nathan Jackson:


Among the most famous living Tlingit artists, Nathan Jackson was honored when the National Museum of the American Indian opened in Washington, DC, in September 2004, featuring one of his totem poles. He began carving nearly 40 years ago, during a serious illness.

"One day I was disk-sanding the bottom of a fishing boat and some of the jellyfish powder and copper paint got into my lungs. I started coughing up blood. I ended up in the hospital for 55 days. While I was there I carved several miniature totem poles.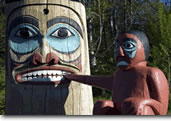 "Depending on how well the artist understands the art, it's okay to experiment. But it's best to stay within the limits of the art form so that you're not producing something foreign. The art relates to peoples' identities. Being Tlingit, I try not to do something that's Kwakiutl, or something that's from a different area." Nathan Jackson, Master Carver and a Chilkoot Tlingit, has been working in Alaska Native arts since 1959. He attended the Institute of American Indian Arts in Santa Fe, New Mexico, where he specialized in fabric design, silkscreen, and graphics. Since 1967, he has been a freelance artist doing traditional style woodcarving, jewelry, and design. Jackson has completed numerous totem poles, screens, panels, and restoration projects. He has instructed woodcarving and design at several institutions, including the Alaska State Museum, Sheldon Jackson College, the Totem Heritage Center, and the University of Alaska.

Jackson's artwork is on display in every major museum – as well as many public and private buildings – in the state of Alaska. His work can also be found in museums and private collections throughout North America and in museums throughout Europe and Japan. Jackson was heavily involved in the Totem Park and tribal house in Saxman. (Background information about Nathan Jackson courtesy the Southeast Alaska Discovery Center – Ketchikan, Alaska.)



Related Topics
---
NATIVES
KETCHIKAN
WHALES
SOUTHEAST ALASKA