Alaska Wildlife Viewing
You can even see moose in downtown Anchorage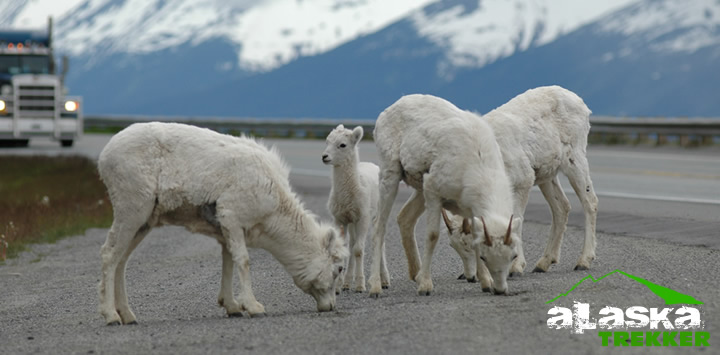 The alpine tundra and lake districts are home to a fabulous diversity of wildlife. Moose, black and grizzly bears, and caribou roam the open spaces and forests. Bald eagles, gyrfalcons and long-tailed jaegers circle overhead. Trumpeter swans, ptarmigan, loons and more birdlife are common. With all of that said, inside the city of Anchorage is a also great place to see moose.
Three places are particularly popular for bear viewing – Pack Creek on Admiralty Island; Anan Creek south of Wrangell and Hyder on the Canadian border, near Ketchikan. Permits are required for bear viewing at Pack Creek. Currently, permits are not required for bear viewing in other areas, but limited visitor group size and other restrictions apply at Anan Creek. Contact a Forest Service office for the latest information about permits and restrictions.
Cool video of Denali National Park
Katmai National Park:
Katmai teems with wildlife – bald eagles, hawks, and falcons patrol the shoreline from nests in seacoast rock pinnacles. Moose amble the coastal and lakes region in hot pursuit of tasty willows and grasses. Salmon surge up rivers and streams beginning in July and continuing in fits and starts through September, luring brown bears and photographers to the Brooks River for the annual feeding frenzy. Two viewing platforms open to the public give reservation holders front–row seats to the show. Wear a bear bell, clap, and sing while you walk around the park: Katmai is home to the largest protected population of brown bears in the world, some 2,000 in all. Katmai National Park
Denali National Park:
Everywhere – Just look out the window !

Southeast Alaska:
From the ferries that travel the Inside Passage, a traveler can often see mountain goats, whales, deer, a variety of marine birds, sea lions, otters, and other animals. The Stikine River Delta is a good place to view birds during the spring migration. At Blind Slough, on Mitkof Island, trumpeter swans live year round. Streams on the forest provide interesting opportunities to view salmon during spawning season. Fish ladders at Dog Salmon Fishpass and Margaret Lake Fish Ladder provide an excellent opportunity to watch pink, coho, chum, sockeye and steelhead salmon negotiate the pass.

Wildlife viewing opportunities are plentiful throughout the Tongass National Forest. Three places are particularly popular for bear viewing — Pack Creek on Admiralty Island; Anan Creek south of Wrangell and Hyder on the Canadian border, near Ketchikan. Permits are required for bear viewing at Pack Creek. Currently, permits are not required for bear viewing in other areas, but limited visitor group size and other restrictions apply at Anan Creek. Contact a Forest Service office for the latest information about permits and restrictions. Southeast Alaska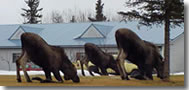 Downtown Anchorage:
Believe it or not, moose are everywhere in the city of Anchorage. An estimated 700 to 1000 moose roam the city in winter. Earthquake Park is a likely place to see one near downtown. Kincaid park is a good place too. In the winter and spring, the fields near Raspberry Road and Northwood Street is an even better spot. (I used to live near that intersection and saw them nearly everyday. Sometimes nine at a time!)