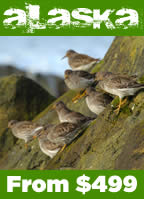 Haines, Alaska
Small town Alaska at its finest
Everything you thought Alaska would be is in Haines. Here you will find a perfect sampling of Alaska's history, scenic beauty, arts and culture, wildlife and lifestyle. Located on the pristine shores of America's longest fjord, glacier–covered mountains rising from the sea and numerous lakes and rivers teaming with fish and wildlife surround this town of 2400 year-round residents. Every fall, thousands of majestic bald eagles gather in the nearby Chilkat Bald Eagle Preserve.
See Haines Bald Eagle Festival

Reaching Haines:
Cruise ships bring quite a few visitors to town, creating a demand for excursions. There are a number of tours available, as well as charter boats. Although the sound of the flights is not universally enjoyed in town, small planes and helicopters use Haines as a launching point for flightseeing and air taxi service into the Tongass National Forest and Glacier Bay National Park. Situated where the Alaska ferry system meets Alaska's road system, Haines is a well-used port for drivers who don't want to travel the entire Alaska Highway. Many people board a ferry in Bellingham, Wash., float to Haines and then drive up the Haines Highway (passing through a part of British Columbia and Yukon Territory) and then on to Alaska's Interior Alaska or Southcentral Alaska regions.

Haines Bald Eagle Festival:
Over 3,000 eagles gather along a four-mile stretch of the Chilkat River north of Haines, Alaska each fall to feed on a late run of salmon. This wildlife spectacle is the largest gathering of eagles in the world. Warm water upwellings in the river keep this stretch of the Chilkat River ice-free providing access to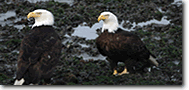 the fish when food supplies are exhausted elsewhere. Eagles flock from as far away as Washington State for the abundant feast. Starting in late October, eagles by the hundreds can be seen along the sand bars and in cottonwood trees in the Alaska Chilkat Bald Eagle Preserve. The peak of the gathering usually occurs in mid-November.

Haines History: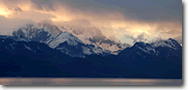 Haines got its start as a mining and fishing town. Klondike stampeders of the late 19th century landed at Haines and then walked north along the Dalton Trail. Livestock also were pushed along the trail. Later, the Haines Highway -- a narrow, scenic route -- was laid roughly parallel to the trail. In the gold mining days, the U.S. Army established its presence at Fort William H. Seward south of downtown Haines. The post, later renamed Chilkoot Barracks, was the last "gold rush" post to be closed.


Hammer Museum:
Haines is also home to a very unique museum. The Hammer Museum provides a unique view of the past through the use of man's first tool. From ancient times, through colonial days and the industrial age, the hammer tells the story of man's progress and ingenuity. This quaint and quirky museum is an interesting and informative stop for the whole family. This is the world's only museum dedicated to hammers, with over 1,400 on display.

Weather:
Haines has a maritime climate characterized by cool summers and mild winters. Summer temperatures range from 46 to 66; winters range from 10 to 36. Temperature extremes have been recorded from -16 to 90. Total precipitation averages 52 inches a year, with 133 inches of snowfall.

Location:
Haines is located on the western shore of Lynn Canal, between the Chilkoot and Chilkat Rivers. It is 80 miles northwest of Juneau, just south of the Canadian border of British Columbia.

Transportation:
Haines is located between the Chilkoot and Chilkat Rivers on the western shore of the longest fjord in America, the Lynn Canal.

By Air - Located 80 miles north of the state capital; Juneau - 30 minutes, Skagway - 10 minutes. After arriving in Juneau on Alaska Airlines, daily scheduled flights to Haines are provided by LAB Flying Service, Skagway Air Service, and Wings of Alaska.

By Sea - Alaska's Marine Highway - 2 ½ to 4 ½ hours depending on which ferry vessel is scheduled. Skagway is approximately one hour by State Ferry and 35 minutes by Chilkat Cruises, a local ferry transportation during the summer for passengers only (no vehicles).

By Road - Haines connects with the Alaska Highway in Haines Junction via the 155 mile Haines Highway. Allow 3-1/2 hours driving time for the Haines Highway. Driving distances: Anchorage - 775 miles, Fairbanks - 660 miles, Whitehorse - 250 miles.

Haines shares a border with 20 million acres of protected wilderness. The heart of Alaska's Glacier Bay National Park is approximately a 15 minute flight from Haines. Canada's Kluane National Park and Tatshenshini–Alsek Provincial Park are just up the road.

Services/Accomodations:
Haines is a full service community with grocery stores, automobile service, photography supplies, gift stores, gas stations, RV parks, camping facilities, State ferry terminal, a State-owned seaplane base, two small boat harbors with a total of 240 moorage slips and a cruise ship dock. There is an array of accommodations available including bed and breakfasts, hotels, motels, cabins and hostels.



Related Topics
---
EAGLES
EAGLE FESTIVAL
SOUTHEAST ALASKA
AK MARINE HIGHWAY