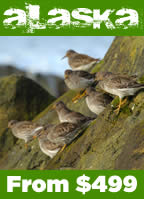 Dutch Harbor, Alaska
Fishing Capital of the World
Dutch Harbor and Unalaska are near the very end of the Aleutian Island chain. This booming community boasts the most productive seafood processing port in the U.S., with five large processing facilities and fishing ships from countries throughout the world. It was a pivotal military location during World War II and was bombed by the Japanese in 1942. Ulakta Head, newly designated by the U.S. Congress as a Heritage Area, (formerly known as a national park), will provide visitors with a focal point for the study of the Aleutian Campaign.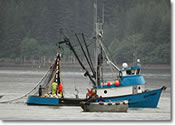 Historic Sites:
Other historic sites include the Russian Orthodox Cathedral of the Holy Ascension and the Bishop's House. The church, parts of which were built in 1825 is the oldest in the U.S. and is on the National Register of Historic Places. The church was rededicated in September, 1996, after phase one of a major restoration was completed. The church hosts one of the largest collections of religious artifacts and icons in the U.S.

Things To Do:
Eco-tourists, bird watchers, and sportfishing enthusiasts from around the world can now enjoy the unique experience of Unalaska. Scheduled marine tours, processing plant tours, flightseeing, cultural and historic tours, and marine charter fishing are all available. Hiking difficulty spans the entire spectrum from novice to expert. Visitors should be prepared for either sunshine or windy, rainy weather by dressing in layers. Wildlife includes marine mammals, large populations of seabirds, songbirds, some migrating Asiatic species and waterfowl.

Location:
The city of Unalaska is on the northern end of Unalaska Island, the second largest island in the Aleutian Chain. A 500-foot bridge connects the two islands. Unalaska is approximately 800 air miles southwest of Anchorage.
Access:
Scheduled daily air service from Anchorage ranging from small commuter planes to jet service. Ferry service is provided by the Alaska Marine Highway System, once a month, from April through October.
Accommodations:
Three hotels/motels (184 rooms), three bunkhouses (104 rooms), one bed & breakfast. Seven restaurants and three grocery stores.



Related Topics
---
VOLCANOES
KODIAK ISLAND
ALEUTIAN ISLANDS
ALASKA FERRIES